Court Pension Smackdown Toughens Job for U.S. Governors, Mayors
Elizabeth Campbell and John McCormick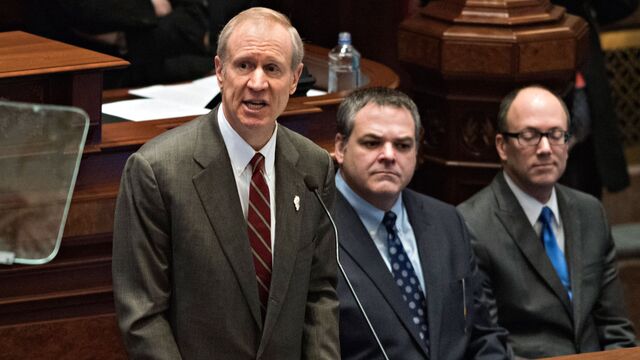 The Illinois Supreme Court's rejection Friday of a measure meant to make the state's pensions solvent is the most powerful reminder yet that it's a brutal time to be the chief executive of a fiscally challenged city or state.
The court's ruling that the state constitution bans any reduction in worker retirement benefits was the latest victory for an American labor movement that's otherwise been on a long losing streak. It signals that governors and mayors, Republicans and Democrats alike, may be unable to avoid the politically unpalatable choice of tax increases or service cuts.
"It's a problem from hell," said Graham Wilson, chairman of the political science department at Boston University and director of the school's Initiative on Cities project. "The only thing that works is to get everyone around the table and convince them that it's better to make a deal now than down the road, when it's even tougher."
Just hours after learning of the ruling, Illinois Governor Bruce Rauner stood inside the Chicago Theater and delivered his assessment of the fiscal health of the third-largest state and its worst-in-the-U.S. $111 billion pension shortfall.
"If Illinois were a company, it would probably have to file for bankruptcy," Rauner, a first-term Republican, told hundreds of employees of a management and technology consulting company gathered for their annual meeting.
Across the nation, state and local governments are grappling with pension deficits that exceed a combined $2 trillion, according to a Moody's Investors Service report last year. Closing that gap by reducing payments to retirees would violate union contracts in many states and even constitutional guarantees.
"I don't know what they expect citizens to do," said David Crane, a lecturer in public policy at Stanford University who worked as a special adviser to former California Governor Arnold Schwarzenegger. "It creates a climate of desperation. Forcing them to pay an ever-growing pension debt is devastating."
In Illinois, Chicago faces $20 billion in unfunded pension liabilities that threaten its solvency. Mayor Rahm Emanuel, a Democrat, drew a distinction between the rejected law and a separate agreement his administration negotiated with some city unions whose members will pay more for fewer benefits.
"That reform is not affected by today's ruling, as we believe our plan fully complies with the state constitution because it fundamentally preserves and protects worker pensions," Emanuel said in a statement Friday.
His optimism aside, those who follow the city's financial struggles said its credit rating could very well take another hit. In February, Moody's cut the city's $8.3 billion of general obligations to Baa2, two steps above junk, citing the retirement costs.
Chicago still has legal arguments to defend its labor deals, said Laurence Msall, president of the Civic Federation, a nonprofit watchdog group that follows the city's finances. Even so, he said, "The state of Illinois, the city of Chicago, and Chicago public schools now face even greater pressure on top of their worst-in-the-nation credit ratings."
Leaders have to be careful not to cut so much that they drive off tax-paying residents and businesses, said Richard Ciccarone, chief executive officer of Merritt Research Services LLC, which analyzes municipal finance.
"You're jeopardizing then the ability to make that city attractive to taxpayers that will be left holding that bag," said Ciccarone, who is based in Chicago.
In some cases, state constitutions weren't enough to prevent cuts to public pensions. In municipal bankruptcy cases in Detroit and California, judges ruled that federal law can override state bans on reducing pensions.
Rauner said he wasn't surprised by the Illinois ruling, telling reporters that the measure "violates basic contract law." His own pension proposal, which is central to his budget for the coming fiscal year, is legal because it wouldn't reduce currently promised benefits, he said.
A coalition of public-worker unions that pressed the legal challenge applauded the decision.
"With the Supreme Court's unanimous ruling, we urge lawmakers to join us in developing a fair and constitutional solution to pension funding," state AFL-CIO President Michael T. Carrigan said in a statement. "We remain ready to work with anyone of good faith to do so."
The ruling raised the prospect of further downgrades by credit-rating firms. Investors already have been punishing Illinois. Its 10-year bonds yield about 3.7 percent, the highest since November and the most among the 20 states tracked by Bloomberg.
The Illinois bill was signed by former Governor Pat Quinn, a Democrat, in late 2013. A judge blocked the measure before it took effect after public-worker unions sued.
During arguments before the court in March, Solicitor General Carolyn Shapiro argued the state should be able to make laws to protect public welfare and safety during fiscal crisis.
But the judge who voided the law concluded it violated a provision of Illinois's constitution that bars the diminishment of public-worker retirement benefits. The seven-member high court agreed.
"We do not mean to minimize the gravity of the state's problems or the magnitude of the difficulty facing our elected representatives," Justice Lloyd Karmeier wrote. "It is our obligation, just as it is theirs, to ensure that the law is followed."
With the Illinois legislature's spring session set to end in less than a month, Rauner has little time to help craft a solution. In his conversation with reporters, he expressed confidence about the prospects of passing a new pension plan before lawmakers adjourn.
"With focus, it's very doable," he said. "We have been at this for a while. People know the issues."
Before it's here, it's on the Bloomberg Terminal.
LEARN MORE