Christie Says He Supports NSA Bulk Collection of Phone Records
Terrence Dopp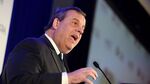 New Jersey Governor Chris Christie, a Republican who may run for president, said he supports the bulk collection of telephone data and would extend the soon-to-expire Patriot Act, the law that enabled the government-surveillance program.
"I'm not one of these folks who think we should bring our guard down, especially during this really dangerous time," the second-term governor told reporters Friday outside a diner in Amherst, New Hampshire. "It can be done in a way that's not only constitutional, but protects national security."
A federal appeals court ruled Thursday that the National Security Agency's phone-data collection is illegal, setting up a showdown weeks before the law the government used to justify the program is set to expire.
The NSA collects information about calls on major U.S. phone networks, including the numbers of callers and recipients, and the time and length of calls. The government said it uses the information to uncover U.S. contacts with international terrorist organizations.
Before it's here, it's on the Bloomberg Terminal.
LEARN MORE