Lindsey Graham Slams Hillary Clinton's New Immigration Relief Proposal
A major battle in the 2016 election intensifies.
by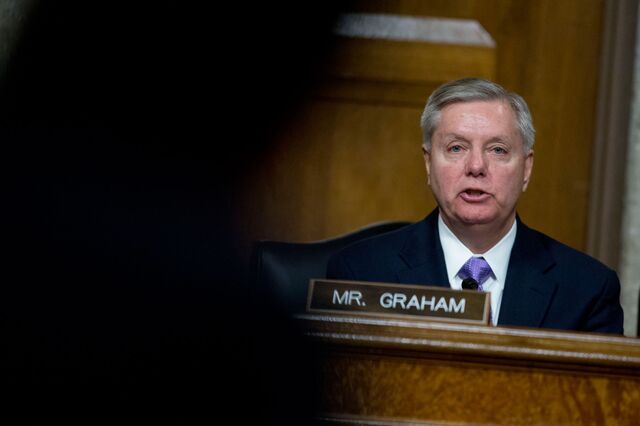 The 2016 battle lines are quickly forming on immigration.
South Carolina Senator Lindsey Graham, who is exploring a run for the Republican nomination, ripped into Democratic front-runner Hillary Clinton's proposal to expand President Barack Obama's executive actions to additionally offer deportation relief to undocumented parents of young people brought to the U.S. illegally, who have been granted "deferred action" protections.
"She's shown no leadership on this issue. She's been a follower. I think it's just political pandering," Graham said. "No American should want the executive branch to do something this monumental by themselves."
"Clear to me," he said, "this is a sign of her weakness."
Graham argued that he would have the most credibility of any presidential candidate to push through a permanent legislative solution on immigration. "I think I could sit down with Democrats, who've known I've taken a beating to try to get a fair compromise," he said, referring to his co-authorship of a sweeping immigration reform bill that passed the Senate with bipartisan support in 2013 and died in the House. "And I think I could convince my party that now's the time to get this behind us."
He brushed off a question about whether Clinton's endorsement of the idea—which Hispanics and immigrant-rights groups strongly support—poses a problem for Republicans in the 2016 election. "I think what Hispanics want is a fix to the problem," he said. "What she's doing is ensuring a third wave of illegal immigration. I think there'll be a backlash in this country."
While some Republican hopefuls such as Jeb Bush and Florida Senator Marco Rubio have not commented silent on Clinton's new proposal, Wisconsin Governor Scott Walker criticized it as a "full embrace of amnesty" that is "unfair to hardworking Americans and all immigrants who followed the law."
The Clinton campaign has suggested it will make immigration a major issue in the upcoming election.
Arizona Senator John McCain—the party's 2008 nominee, who according to exit polls lost badly among Hispanics—pointed out that a federal judge has halted the "unconstitutional" executive actions that Clinton is offering to expand.
"I think it's very obvious that she's trying to reach out to the Hispanic vote, and get the kind of support that Obama got in the last election. It's clearly a political ploy," he said. "A naked political ploy."
Will it work?
"We Republicans have to give Hispanics reasons to vote for us," McCain said.
Before it's here, it's on the Bloomberg Terminal.
LEARN MORE