Hillary Clinton's Not the First Democrat to Woo Super-PAC's Donors
President Obama attended a Priorities USA event in 2012, according to Double Down.
by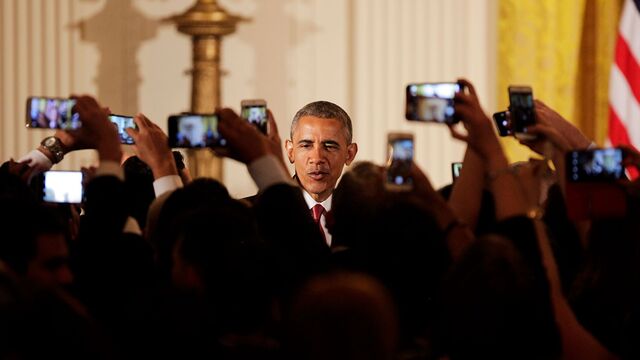 Hillary Clinton is preparing to cozy up to super-PAC donors, according to a new report, but it's not exactly a first for a Democratic presidential candidate.
As the New York Times wrote on Thursday, "Clinton will begin personally courting donors for a 'super PAC' supporting her candidacy, the first time a Democratic presidential candidate has fully embraced these independent groups that can accept unlimited checks from big donors and are already playing a major role in the 2016 race." 
"Running for re-election in 2012, President Obama reluctantly endorsed fund-raising by [Priorities USA Action] because of fears that he would be outspent by Republicans who were more aggressive in using what was then a new vehicle for raising large amounts of money that could be used in support of a campaign but not go directly to it," the Times continued. "But he never appeared at any of its fund-raisers."
But Obama did rub shoulders with donors at a Priorities function during his reelection bid, according to Double Down: Game Change 2012, the campaign book by Bloomberg Politics managing editors Mark Halperin and John Heilemann. They write that in October of that year, Obama went to an event at film executive and Democratic bundler Jeffrey Katzenberg's house in Los Angeles. The White House billed the event as a "thank you" to big donors, but in reality, it was a Priorities USA event—"the sort of shindig that Obama had sworn never to attend." 
Katzenberg billed it as "unobtainium" and recommended that attendees shell out $1 million to attend. Three of them did a few days before the lunch. The final guest list included Reid Hoffman, Irwin and Joan Jacobs, Vinod Khosla, Seth McFarlane, Sean Parker, Eric Schmidt, and Steven Spielberg. At the event, Obama assured the donors that his sorry debate performance in Denver was a one-time thing. 
Before it's here, it's on the Bloomberg Terminal.
LEARN MORE