Bill de Blasio's Ohio Allies Refuse to Sign Plan to End Inequality
Mark Niquette and Henry Goldman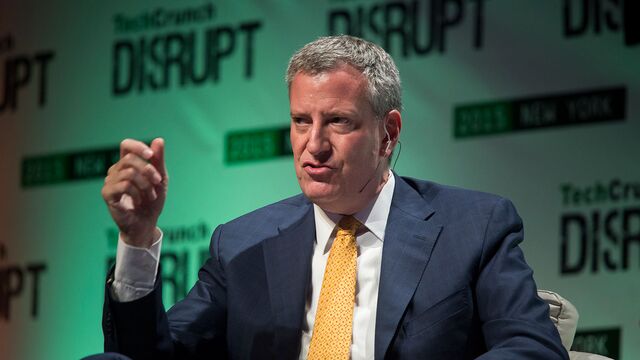 When New York City Mayor Bill de Blasio goes to Washington on May 12 to unveil his agenda to end income inequality, two Ohio officials who participated in discussions that produced it won't be there and aren't signing on.
U.S. Senator Sherrod Brown and former Governor Ted Strickland met with de Blasio at an April 2 gathering in New York to discuss the issue, after which the Democratic mayor proposed the plan modeled on Republican Newt Gingrich's Contract With America in the 1990s. The Ohioans said they can't endorse it, although they are sympathetic.
"I don't believe in elected officials signing contracts prior to elections or during their time in office," Brown, a Democrat, told reporters Wednesday.
The plan, meant to influence Democratic candidates in the 2016 election, will include calls for a higher minimum wage and paid sick leave, using taxes on the wealthy to pay for job-creating infrastructure improvements and help for families having difficulty paying for education and housing, de Blasio has said.
Brown, who serves on the Banking Committee, has said ideological strictures impede democratic deliberations. He has raised concerns that Republican colleagues are reluctant to act on policy measures after signing a pledge not to raise taxes from Grover Norquist's Americans for Tax Reform.
Strickland, a Democrat running for the U.S. Senate in 2016, supports raising the minimum wage and has called for "an end to tax breaks for corporations that ship jobs overseas and multinational corporations that hide money in offshore accounts," campaign spokesman Dennis Willard said.
Yet Strickland hasn't endorsed the contract and won't attend the Washington event, Willard said.
"He will carefully review each individual proposal based on whether it works for Ohio," Willard said in a statement.
Thick Skin
John Del Cecato, the mayor's chief media strategist, said in an e-mail that de Blasio wasn't offended.
"Some folks have a policy against signing pledges, and that's fine," he said. "Both Senator Brown and Governor Strickland have been strong champions in this effort to combat income inequality, particularly on proposals to lift the floor for working people."
De Blasio, 53, hosted the April 2 meeting about income inequality at Gracie Mansion, his official Manhattan residence, that included Brown, Strickland, Connecticut Governor Dannel Malloy and Jonathan Soros, son of the billionaire hedge fund founder and philanthropist George Soros. He emerged with the idea of writing a new contract to draw 2016's presidential candidates to their agenda.
De Blasio told MSNBC that he would issue the plan May 12 on the U.S. Capitol's steps. The event is to include other elected officials, activists and celebrities.
The mayor borrowed the idea from Gingrich, a former Republican speaker of the House, who made a conservative contract the centerpiece of congressional elections two decades ago.
De Blasio has claimed a role as a "national convener" for "a progressive urban agenda" since he won the mayoral election in 2013 by 49 percentage points, the biggest margin ever for a nonincumbent in the most populous U.S. city.
The mayor has traveled to the U.K. and to Iowa, Nebraska and Wisconsin to push his priorities.
De Blasio, who managed Hillary Clinton's successful 2000 bid to become a U.S. senator from New York, has declined to endorse her presidential candidacy until hearing more about her specific proposals.
Strickland backed Clinton over Barack Obama in 2008, has endorsed her for 2016, and former President Bill Clinton has endorsed Strickland's senate bid. Brown hasn't taken a formal position on the Democratic presidential race.
Before it's here, it's on the Bloomberg Terminal.
LEARN MORE