Republicans Use Baltimore to Relaunch the War on the War on Poverty
Jeb Bush is the latest Republican to blame the "failed" War on Poverty for the unrest in Baltimore.
by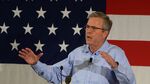 After a brief lull, the GOP war on the War on Poverty is back on.
As the debate in Baltimore turns towards how to bring economic opportunity to poor cities, Republicans are arguing, again, that the government assistance programs launched by President Lyndon Johnson in the 1960s and other liberal policies are the main issue.
In a Wednesday op-ed in the Chicago Tribune, Jeb Bush argued that while the left will push for spending more on government programs, those programs have been a bad investment: 
Trouble is, from the War on Poverty to the persistence of liberal big city mayors, the same government programs have been in place for over a half-century — and they have failed. We have spent trillions of dollars in the War on Poverty, and poverty not only persists, it is as intractable as ever. This represents a broken promise. And it feeds the anger of Baltimore.
During appearances on the Sunday shows this week, Speaker John Boehner and Representative Paul Ryan, a Wisconsin Republican, also argued that the policy changes of the '60s—which included funding to low-income schools, a permanent food stamp program, Social Security, Medicare, and Medicaid—hadn't done anything to alleviate poverty in America. 
On NBC's Meet the Press, Boehner said Baltimore illustrated "50 years of liberal policies that have not worked" and "[i]t's time to look at all these programs and determine what's working and what isn't." The same day, during a conversation on Baltimore on CBS's Face the Nation, Ryan was asked about what he learned from his post-2012 election tour of poor communities. He said:
And so what I thought was after a 50-year War on Poverty and trillions of dollars spent, we still have the same poverty rates. We have 45 million people on poverty. So I think what we as a country, this isn't a Republican and Democrat thing [...] we as a country need to say that's not good enough. 
Conservative criticism of the War on Poverty, which reached a high point during last year's 50th anniversary of Johnson's speech, consists of two arguments: that there are as many people in poverty now as there were in 1965; and that the country really needs a series of conservative solutions: school choice, lower taxes to encourage business, changes to welfare, and a push for stronger families. 
According to the Census Bureau, the Official Poverty Measure has not changed significantly—it was about 14 percent in 1967 and 15 percent in 2012. But in 2011 the Census Bureau introduced the Supplemental Poverty Measure, a more comprehensive index that takes into account the cost of necessities and the additional income provided by government assistance programs such as Medicaid and the Supplemental Nutrition Assistance Program. Last year Columbia University released a report that found that, using the SPM, poverty rates fell from 26 percent in 1967 and 16 percent in 2012. Republicans tend to reference the original measure.
According to the Pew Research Center's analysis of the Census Bureau's official measure, the poverty rate among people who are 65 and over dropped from 28.5 percent in 1966 to 9.1 percent in 2012, thanks to the Social Security Act. The poverty rate among black Americans fell from 41.8 percent in 1966 to 27.8 percent in 2012.
The policies suggested by Republicans tend to either argue for a complete overhaul of the system—Ryan mentioned his plan for block grants of federal welfare funding, which critics say would cut benefits—or focus on the need for stronger families.
For Boehner, that means supporting programs like Boy Scouts and Girls Scouts, and for Bush that means more two-parent households. "If our government leaders want to attack poverty, they should first acknowledge that an effective anti-poverty program is a strong family, led by two parents," he wrote. 
On the whole, the party has favored cuts. The new budget plan put forth by House and Senate Republicans borrows from Ryan's past proposals and includes more than $1 trillion in unspecified cuts to government assistance programs and repeals Obamacare.
Reforming Social Security and Disability insurance are also becoming campaign issues. New Jersey Governor Chris Christie, a possible Republican presidential candidate, is pitching himself as someone unafraid to tell hard truths about Social Security—his plan would raise the Social Security retirement age to 69 and end benefits for retirees making more than $200,000 a year. Jeb Bush and Senator Marco Rubio have also argued for raising the eligibility age for Social Security.
Democrats don't agree and, as Bush argued, are pushing for investment. On Meet the Press former Maryland Governor Martin O'Malley argued for a new agenda for American cities—in other words, a new offensive in the War on Poverty.
"The structural problems that we have in our economy, the way we ship jobs and profits abroad, the way we fail to invest in our infrastructure and fail to invest in American cities, we are creating the conditions," he said. 
Before it's here, it's on the Bloomberg Terminal.
LEARN MORE