Republican Dan Donovan Wins U.S. House Seat Vacated by Michael Grimm
Henry Goldman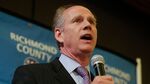 Dan Donovan, the Staten Island district attorney whose office drew national attention for its handling of the death of an unarmed black man in a confrontation with police, won election to the U.S. House of Representatives.
Donovan, a Republican, maintained the party's hold on New York's 11th Congressional District, which includes all of Staten Island, the city borough with the lowest percentage of Democrats and non-white voters.
Donovan led 59 percent to 40 percent over Democratic City Councilman Vincent Gentile in complete and unofficial results, according to the Associated Press.
Donovan will fill the seat vacated by Republican Michael Grimm in January, upon pleading guilty to federal tax fraud. The position will be up for election again in November 2016.
"Tonight is not just a victory for my campaign but a victory for America," Donovan told his supporters Tuesday night. "The hard working men and women of the middle class spoke loud and clear."
A lifelong Staten Islander, Donovan, 58, has been its elected chief prosecutor since 2004. His tenure included a grand jury's decision not to indict anyone after the choking death of Eric Garner in a July clash with police, which ignited protests over the use of force by officers. While civil rights advocates complained that nobody was prosecuted, the incident was barely mentioned during the campaign.
'Backlash Fear'
"Most Staten Islanders have a family member or neighbor who's a cop, and they applaud Donovan's handling of the issue," said Richard Flanagan, chairman of the political science department at the College of Staten Island, a division of the City University of New York. "Gentile couldn't touch the issue because of fear of a backlash."
Donovan promised during his campaign to work for the repeal of President Barack Obama's Affordable Care Act, which requires most people to obtain health insurance. While he ran for state attorney general describing himself as anti-abortion, in this campaign he said the federal government shouldn't add restrictions. He pledged to work with Democrats.
His election will give Republicans a 245-188 advantage over Democrats in the 435-member U.S. House of Representatives, with two vacancies. He will become the ninth Republican in New York state's 27-member delegation.
Lower Turnout
Low voter turnout probably helped Donovan in Staten Island, where Republicans have more resources than the Democrats, Flanagan said.
"He also benefited from Obama fatigue and local irritation with Mayor Bill de Blasio's liberal policies," he said.
Michael McMahon, 57, a Staten Island Democrat elected to Congress from the district in 2008 for one term, said in an interview he hasn't ruled out running for the office next year.
Donovan graduated from St. John's University and Fordham University Law School, and began as an assistant prosecutor in former Manhattan District Attorney Robert Morgenthau's office in 1989.
In 1996 he became chief of staff to former Staten Island Borough President Guy Molinari, a longtime Republican county leader, and later served as deputy borough president until his 2003 election as Staten Island district attorney. In 2010 he ran for state attorney general and lost to Democrat Eric Schneiderman.
Democratic Edge
Democrats hold less than a two-to-one enrollment edge over Republicans in the district, compared with a six-to-one advantage citywide, according to the state Board of Elections.
One-third of the district's voters reside in a pocket of southwest Brooklyn that includes the predominantly white and Asian neighborhoods of Bensonhurst, Dyker Heights, Gravesend and Bay Ridge, where Gentile lives.
The district is a bastion of white ethnic voters, where blacks, Hispanics and Asians make up only about 25 percent of the registered electorate, said Jerry Skurnik, a political consultant who specializes in demographic analysis.
"It's got the largest percentage of Republicans, conservatives, Italians, Irish and white voters of any congressional district in New York City," Skurnik said.
As of April 15, Donovan raised about three times the amount of money that Gentile did -- $615,000 to $196,000, according to the Federal Election Commission.
Former Mayor Michael Bloomberg was among Donovan's donors, contributing the $2,700 maximum and holding a $1,000-per-person cocktail reception supporting the campaign.
Bloomberg, elected mayor as a Republican in 2001 and 2005 and as an independent in 2009 while on the Republican Party ballot, is founder and majority owner of Bloomberg News parent Bloomberg LP.
(An earlier version of this story corrected the year of an election in the last paragraph.)
Before it's here, it's on the Bloomberg Terminal.
LEARN MORE