Mike Huckabee Will Raise Money with 'Willie Horton' Ad Producer
Floyd Brown, the man behind the infamous spot, said he would co-host a Phoenix visit by the former Arkansas governor.
by and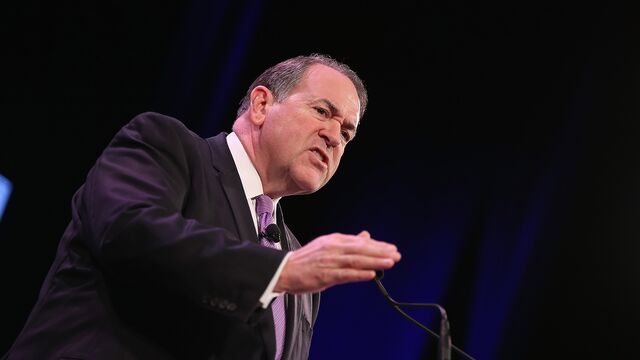 On May 14, former Arkansas Governor Mike Huckabee will head to Phoenix to raise money for his 2016 presidential bid. The visit, which was announced by Huckabee's campaign today, will be co-hosted by political strategist Floyd Brown, the producer of the 1988 "Willie Horton ad" that Republicans have spent decades distancing themselves from.
The infamous ad, which was credited to the short-lived "Americans for Bush," attacked Massachusetts Governor Michael Dukakis for supporting weekend prison passes for criminals in Massachusetts. Horton was out on weekend furlough from a life prison sentence when he assaulted and raped a woman, as the ad recounted in stark, lo-fi terms.
Since then, "Willie Horton" has become a reference point for any commercial that links a candidate to a horrible crime—as Huckabee well knows. In 2007, as his Iowa campaign surged, the campaign of former Massachusetts Governor Mitt Romney developed an ad about the early release of Wayne DuMond, a rapist who won early release and went on to commit murder.
"She was pregnant with her first child," said the victim's mother in the commercial, which was never aired on television, but was posted to YouTube. "She was murdered by a serial rapist released early from prison in Arkansas. It was Mike Huckabee's intent that Wayne DuMond be released from prison."
And Huckabee was criticized for an unusually high number of pardons and commutations while governor of Arkansas. Huckabee reduced the 108-year sentence of one convict who years later shot four police officers in Seattle. Another man released after the governor's mercy was later convicted again of rape.
Also on Bloomberg Politics: The Definitive Mike Huckabee Scouting Report, by John Heilemann
Reached by phone on Wednesday, Brown confirmed that he was a host of the fundraiser, and said that he'd known Huckabee for years. He declined to discuss the former governor's own clemency record. 
"I really can't comment on something I haven't looked into," said Brown.
Huckabee's campaign said Wednesday it was happy for Brown's support. 
"We're grateful to any supporter who has offered to hold a fundraiser and we're very grateful Floyd is doing so,'' said Alice Stewart, a Huckabee spokeswoman. "Big or small we're grateful to all donors and fundraisers.''
More recently, Brown has expressed skepticism of Barack Obama's eligibility to serve as president.
"He has not proven to me, definitely, that he was born in the United States," Brown told Newsmax in 2009. "I'd like to see the actual birth certificate to know: Was there a doctor there? Was it in a hospital? Who signed it?"
And Brown has raised questions about the president's religion, telling an audience in 2010 that the president was likely a Muslim, and definitely an enemy of America's main religion. "Whether he's a godless atheist or a Muslim," said Brown, "the bottom line is: This man hates Christianity."
Before it's here, it's on the Bloomberg Terminal.
LEARN MORE