Michigan Voters Reject Tax Increase to Pay for Roads and Bridges
Chris Christoff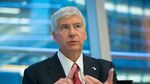 Michigan voters rejected increasing sales taxes to pay for schools and gas taxes to generate $1.3 billion annually for road and bridge construction, according to Governor Rick Snyder.
Votes were still being counted as Snyder issued a statement saying the measure was defeated on Tuesday. The governor and state legislature had put the issue on the ballot.
Snyder, who is considering running for the Republican presidential nomination, argued for the increase, saying Michigan's damaged roads are inferior to those in neighboring Ohio and costly to motorists whose vehicles are damaged by potholes.
The measure would have increased the state sales tax to 7 percent from 6 percent, and converted Michigan's 19-cents-per-gallon gasoline sales tax -- 15 cents for diesel fuel -- to a flat levy of 14.9 percent on wholesale prices to generate more revenue. The gas tax was last raised in 1997.
The sales tax increase was to generate an additional $795 million per year for public schools, local governments, public transit and the state general fund.
The ballot issue was criticized by opponents as too complex, and a dereliction by skittish lawmakers who asked voters to decide a $2 billion tax increase. Raising the sales tax requires voter approval; raising the gas tax alone wouldn't.
Proponents of the plan, led by the Michigan Infrastructure and Transportation Association construction trade group, raised almost $9 million through April 23 to promote it, compared with less than $200,000 raised by groups opposed to higher taxes and the plan's use of money for things other than roads.
Before it's here, it's on the Bloomberg Terminal.
LEARN MORE