Changing Course, Rick Perry Writes in Favor of Ending Ex-Im Bank
The move brings the Texas Republican into line with would-be 2016 rivals.
by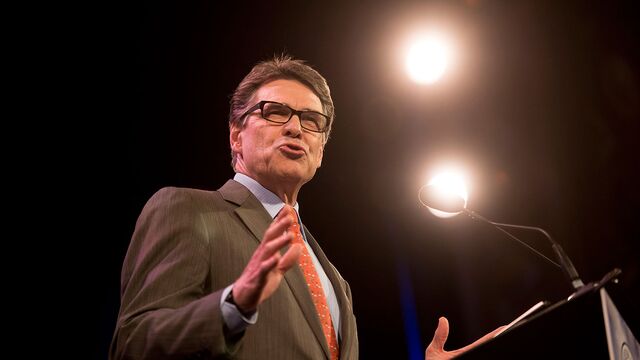 Former Texas Governor Rick Perry says he opposes reauthorizing the U.S. Export-Import Bank, a reversal for the potential Republican presidential candidate that brings him into line with 2016 rivals.
"I have been deeply disturbed by recent revelations of corruption and bribery at the institution," Perry wrote in a Wall Street Journal op-ed published Tuesday. "Those at Ex-Im who have abused the public trust must be pursued to the full extent of the law. But it may be that the best way to mend Ex-Im is to end it."
Perry said he supported reauthorization as recently as June 2014 because as governor, he feared that shutting down the institution would make the U.S. less competitive globally. The bank, which serves as the federal government's credit agency for exports, has become a contentious issue in Congress, which is responsible for its authorization. In September, Tea Party Republicans led a push to end the bank, saying it gives a leg-up to large companies that don't need one. Congress eventually extended authorization through June.
Now, Perry says there are three other ways for "U.S. companies to win in the global marketplace": Change the tax code so that "corporate taxes are fair, simple and competitive"; "retire the federal debt by reducing spending instead of increasing taxes"; and "make the regulatory system stable and predictable so that it's easier for U.S. businesses to get off the ground."
Other Republican presidential contenders, including Senators Marco Rubio of Florida, Ted Cruz of Texas, and Rand Paul of Kentucky, have already said they oppose the bank.
Before it's here, it's on the Bloomberg Terminal.
LEARN MORE