'I Just Work Here,' Bill Clinton Says as Foundation Donor Questions Defense
Mo Ibrahim says a recent trip to the U.S. left him "shocked" about "attacks" on the foundation.
by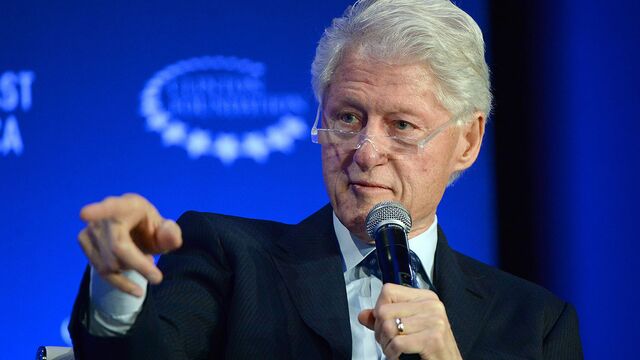 Former President Bill Clinton reportedly squirmed a bit Wednesday as a Clinton Foundation donor railed against American media at a Clinton Global Initiative event in Marrakech, Morocco. 
According to Politico, Mo Ibrahim said a recent trip to the U.S. left him "shocked" about "attacks" on the foundation, whose finances and transparency are scrutinized in a new book as Hillary Clinton campaigns for president.
"I used to respect the American media. And I was amazed because I started to watch the news and Fox and other guys and none of those people asked a question: what this foundation is doing actually," said Ibrahim, a telecommunications billionaire and philanthropist.
"I just could not understand. ... I didn't see anybody from the foundation standing up," he said.
The former president appeared to try to deflect the comments with a joke. "I just work here, I don't know," Clinton said. "There is one set of rules for politics in America and another set for real life. And you just have to learn to deal with it."
A YouTube channel linked to America Rising, the Republican opposition-research firm, posted a video of the exchange:
Also Wednesday, Clinton told CNN that he didn't believe that the allegations in Peter Schweizer's book on the Clinton Foundation had any merit. 
"There's just no evidence," Clinton told Christiane Amanpour. "Even the guy that wrote the book apparently had to admit under questioning that we didn't have a shred of evidence for this, we just sort of thought we would throw it out there and see if it flies, and it won't fly."
Before it's here, it's on the Bloomberg Terminal.
LEARN MORE