Senate May Vote on Iran Bill Without Candidates' Amendments
Kathleen Hunter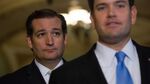 Senate Republican leaders are moving to advance a bill to let Congress review any Iran nuclear deal without allowing votes on amendments offered by two of their party's presidential contenders, Ted Cruz and Marco Rubio.
Majority Leader Mitch McConnell, a Kentucky Republican, told reporters Tuesday that the Senate would move forward on the Iran bill "very quickly." He set up a vote to end debate for Thursday, and a vote on final passage could come later that day.
Cruz of Texas and Rubio of Florida are trying to bolster their credentials as Iran hard-liners. Supporters of the Iran legislation say their proposals could scuttle the bill, which would bar President Barack Obama from suspending congressionally enacted economic sanctions against Iran while lawmakers review a nuclear deal.
"I would have liked to have seen a lot more votes on amendments," Senator Ron Johnson, a Wisconsin Republican, told reporters following a closed-door Republican lunch in Washington. "It's just unfortunate the way this has played out."
Democrats have been pressing Republicans to withdraw amendments to the bill, H.R. 1191, and pass the version approved unanimously by the Senate Foreign Relations Committee last month.
Many Republican backers of the bill, including South Carolina Senator Lindsey Graham, have tried to persuade their colleagues not to propose amendments that would erode bipartisan support. Graham is considering a presidential run.
Ending Debate
A vote Thursday to cut off debate would preclude votes on amendments including those offered by Rubio, Cruz and Senator Tom Cotton, an Arkansas Republican.
After threatening to veto an earlier version of the bill, Obama agreed to accept the measure once changes to it were negotiated by Republicans and Democrats.
Cruz said Tuesday that Democrats were "terrified" that votes on the proposed amendments would expose what he described as a comparative lack of support for Israel, whose leaders oppose the deal with Iran that the U.S. and five other world powers are attempting to complete.
Cruz's proposal would require congressional approval for lifting sanctions against Iran, instead of giving Congress a chance to block sanctions relief.
Rubio has proposed barring any sanctions relief until the president "determines Iran's leaders have publicly accepted Israel's right to exist as a Jewish state."
One of Cotton's amendments would require Iran to divulge the history of its nuclear program and close all of its nuclear facilities.
AIPAC's Position
Cotton was the chief author of an an open letter signed by 46 other Republican senators that told Iran's leaders they couldn't count on any deal they made with Obama because a future president or Congress could overturn it.
The push to amend the bill is opposed by the American Israel Public Affairs Committee, an influential pro-Israel group that spent $3.1 million last year on lobbying, according to the Center for Responsive Politics, a Washington nonprofit group that tracks lobbying and campaign spending.
AIPAC is opposing amendments, like those offered by Rubio or Cruz, that would jeopardize bipartisan support for the bill, according to a person with the organization who spoke on condition of anonymity.
Before it's here, it's on the Bloomberg Terminal.
LEARN MORE