Kerry in Somalia for First Visit by U.S. Secretary of State
Nicole Gaouette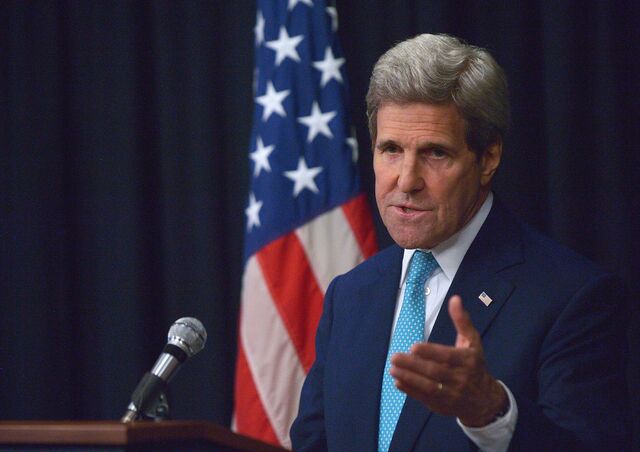 U.S. Secretary of State John Kerry arrived in the Somali capital, Mogadishu, for an unannounced visit to underscore America's commitment to help defeat the Islamist militant al-Shabaab group and call for accelerated reforms.
The Somalia visit is the first by a U.S. secretary of state to the nation where African Union-backed government forces have been fighting an insurgency by the al-Qaeda-linked rebels since 2006. U.S. drone strikes have helped weaken al-Shabaab after military gains that drove the militia group out of Mogadishu and other southern and central regions over the past four years.
"This is a great moment for us," President Hassan Sheikh Mohamoud said after meeting Kerry at Mogadishu's main airport on Tuesday.
Somali officials are trying to reach agreement on an administration that will govern federal-state ties and the delineation of authority as they work toward national elections in 2016. As they do so, they face the threat posed by al-Shabaab, which is trying to establish an Islamic state in Somalia and has carried out attacks in East Africa and threatened U.S. shopping malls.
Last month, al-Shabaab claimed responsibility for an assault on Kenya's Garissa University that left at least 147 people dead. The group has targeted Kenya because it's a member of the African Union Mission in Somalia, or Amisom, which is fighting al-Shabaab and other armed opposition groups.
Coordinated Approach
In Kenya on Monday, Kerry stressed the need for a coordinated regional approach to defeating al-Shabaab and other terror groups.
His visit follows the February announcement that President Barack Obama had nominated the first U.S. ambassador to Somalia in almost 25 years, Foreign Service veteran Katherine Simonds Dhanani. While the U.S. diplomatic base for Somalia will continue to be in Kenya, a State Department official who briefed reporters about Kerry's visit anonymously because of security concerns, said Dhanani's arrival means the U.S. "footprint" in Somalia will become larger.
Somalia has been wracked by instability and civil war since dictator Mohamed Siad Barre was ousted 24 years ago.
The U.S. closed its embassy in 1991 when Somalia's government collapsed, prompting the deployment of a U.S.-led United Nations peacekeeping mission. American troops pulled out of Somalia in 1994 after Somali militiamen shot down two U.S. helicopters in a scarring event that became known as "Black Hawk Down" and left 18 U.S. soldiers dead.
Political Turbulence
While there has been significant progress on state formation with the creation of the interim administration for Jubaland and the southwest region, the State Department official said, there have been delays caused by infighting and political turbulence.
The U.S. has told Somali leaders that they have to get their political house in order if they want to see Somalia continue to develop and to continue to grow, said the official, who added that Somalia's president and new prime minister have committed to find a way to work together.
Speaking in Mogadishu on Tuesday, Kerry said Somali power-sharing would require "respect for the need for a national government, but also respect for the authorities of the states" to provide Somalis with security.
Referring to the more than 450,000 Somalis living in Kenyan refugee camps, Kerry said, "they want to come home. It's a challenge for Kenya. And the solution is for them to be able to come home to peace and safety."
Before it's here, it's on the Bloomberg Terminal.
LEARN MORE