For Mike Huckabee, the Economy Is a Moral Issue
The Republican presidential hopeful's moralizing language clearly resonates with his religious base, but he has yet to win over a different set of conservatives.
by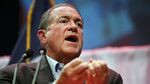 Republican Mike Huckabee was being interviewed by Neil Cavuto of Fox News Channel last June when he advocated a tax reform that he said "gets rid of" the Internal Revenue Service. "The IRS has become a criminal enterprise, needs to be stopped," Huckabee said. "It's abusive to the American taxpayer. They get away with what I can't get away with as a taxpayer. It's got to stop."
The outraged condemnation is consistent with Huckabee's overall approach to economic issues, which is to view them through the same moral lens that he uses for his signature topics like opposition to gay marriage and abortion. The moralizing language clearly resonates with his religious base. But Huckabee, who entered the 2016 presidential race on Tuesday, has yet to win over a different set of conservatives who don't trust the Baptist preacher to cut taxes and shrink government.
Huckabee served as governor of Arkansas from 1996 to 2007 and ran for president in 2008, winning the Iowa Republican caucuses. Months after dropping out of the 2008 race, he launched a weekend show on Fox News Channel that ran until this January, when he dropped out to consider a second run for president.
Huckabee has been a long-time supporter of replacing the income tax and payroll taxes with a single national 23 percent sales tax. He and other supporters argue that the so-called FairTax would raise enough money to fund the government, including Social Security and Medicare, while making the IRS extraneous.
As configured now, "the tax system punishes people who try to get ahead," Huckabee told a crowd at the Pizza Ranch in Council Bluffs, Iowa, in March, according to a report in the Daily Nonpareil.
The conservative rap on Huckabee is that, fiery rhetoric aside, he didn't walk the walk as governor of Arkansas. The anti-tax Club for Growth contends that while he signed some tax cuts, state sales tax rose 37 percent over his tenure, motor fuel taxes rose 16 percent, and cigarette taxes rose 103 percent, while spending rose at three times the rate of inflation. Huckabee has challenged some of the figures, but conservatives remain dubious. "Governor Huckabee has a hurdle here within the GOP primaries, mostly because of his record of increasing taxes in the state," says Dan Holler, a spokesman for Heritage Action for America, the lobbying sister organization of the Heritage Foundation.
There's also a question of whether the FairTax that Huckabee likes is even practical. The No. 1 risk with a 23 percent national sales tax is that there's a strong incentive to evade it, says Laurence Kotlikoff, a Boston University economist. The FairTax also leaves untaxed the implicit income that homeowners receive by living rent-free in their own homes—which can be substantial for multimillion-dollar properties, Kotlikoff says. And the FairTax doesn't tax estates, which pleases some conservatives but displeases others who dislike dynastic wealth. (Kotlikoff, who ran for president in 2012 as a very dark horse, is pushing his alternative Purple Tax Plan.)
Huckabee's position on free trade exposes a cleavage within the Republican Party. Consistent with his Bible Belt positioning, he takes the populist side of the intra-party debate. At the Iowa Agricultural Summit on March 7, he described himself as neither a globalist nor a corporatist but a nationalist. "I don't care if it helps the Chinese. I don't really care if it makes the European Union stronger," he said, according to the Des Moines Register. "I care if it makes America stronger as a nation and American families able to reach the next rung in the economic ladder. And a lot of our decisions today that we're making are not doing that." The newspaper reported that the crowd "erupted in applause."
Before it's here, it's on the Bloomberg Terminal.
LEARN MORE