Cuomo Stands Alone as Arrests Erode Albany's Triumvirate
Freeman Klopott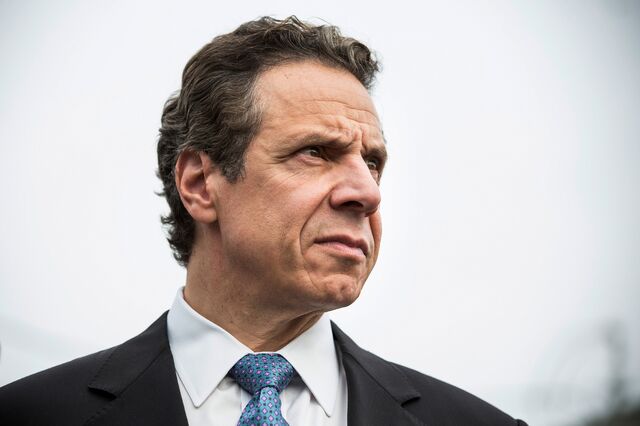 Three men entered the room in January, and only one hasn't been arrested: New York Governor Andrew Cuomo.
Albany's triumvirate, known for decades as "Three Men in a Room" after the capital's traditional method of settling state affairs, started the year with Cuomo, Assembly Speaker Sheldon Silver and Senate Majority Leader Dean Skelos. Silver resigned his leadership post Feb. 2 after being accused of kickback schemes. On Monday, Skelos was arrested on charges that he used his power over real-estate laws to enrich his son.
Over four years, the three pushed through a law legalizing same-sex marriage and wrote budgets that closed more than $12 billion in deficits. Now, Cuomo has six weeks to hash out deals on laws that control rents in New York City and provide tax abatements to developers who build affordable housing before the measures expire June 15. The governor, whose own administration is being probed by federal prosecutors, must advance his second-term agenda amid ethical muck.
"It's going to make it more difficult to get all of the work we have to get done," said Queens Senator Michael Gianaris, the second-highest-ranking Democrat in the chamber. "A leader in the legislature is not going to be able to move when dealing with these types of significant allegations."
After reports in April that Skelos was under investigation, Cuomo, a 57-year-old Democrat, said making changes to the rent and tax laws would be difficult. Striking accords on raising the minimum wage and extending mayoral control of New York City's schools may be even tougher.
City Pressure
New York City Mayor Bill de Blasio applied pressure Tuesday, saying that rent regulations must be altered or thousands of tenants will be pushed out of fast-gentrifying neighborhoods. De Blasio, a Democrat, has put forward a plan to create or preserve 200,000 affordable housing units by 2025.
"This has to be a city for everyone," de Blasio said in a news release.
Cuomo has relied on Skelos, 67, a Republican, when taking on state worker unions to cut pension benefits and controlling spending. In his Jan. 21 State of the State address, Cuomo referred to himself, Skelos and Silver as the "Three Amigos."
It was a partnership forged in unsettled times.
In July 2013, Cuomo formed a so-called Moreland Commission to investigate the legislature. When he shut it down in March 2014 as part of a budget deal that included new ethics rules, Manhattan U.S. Attorney Preet Bharara opened an investigation into his administration. Cuomo has said he is cooperating.
Leadership Position
Late Monday night, Senate Republican conference chairman Kenneth LaValle said members decided to keep Skelos as leader. Skelos will now negotiate the extensions for the New York City real-estate regulations, power that he's accused of abusing. LaValle said that won't be a problem.
On Tuesday, Skelos agreed, telling reporters in Albany that those issues will be negotiated like any other item.
"Our conference believes that I'm innocent, I know I'm innocent and we're ready to govern," Skelos said.
Skelos and his son Adam, 32, were arrested and charged with running a scheme over five years in which the senator pressured real estate developers and an environmental technology company to get Adam jobs in exchange for favorable treatment in the legislature, prosecutors said in announcing their case, which was built using phone taps and cooperating witnesses. Adam Skelos has also said he's innocent.
The complaint describes a lawmaker who threw his support behind projects "not based on what was good for his constituents or good for New York, but rather on what was good for his son's bank account," Bharara said at a press conference Monday.
On Tuesday, Skelos said his son deserved the jobs and pay.
"The complaint is nothing more than a press release," Skelos said. Bharara "has to look in the mirror and make a decision as to what's right and wrong in his own conscience."
Forced Out
Bharara has been outspoken about corruption in Albany, where he says legislative leaders and the governor wield too much power over the budget and regulations.
After Silver was arrested Jan. 22, he initially sought to hold onto power before being forced out by fellow Democrats after more than 20 years in the post. Silver, of Manhattan, says he'll be exonerated. He was replaced by Carl Heastie, a Bronx Democrat, who negotiated with Cuomo and Skelos to produce the governor's fifth consecutive on-time budget, the first in more than four decades.
The charges against Skelos, which revolve around his power over rent regulations and a property-tax abatement, bring into focus the power New York City's real-estate industry wields in Albany, said Blair Horner, legislative director for New York Public Interest Research Group, a government watchdog. Developers are the state's biggest political donors.
"Elected officials are able to raise vast sums in campaign contributions in exchange for advancing policies that make them big bucks," Horner said. "It's a very lucrative financial investment."
Before it's here, it's on the Bloomberg Terminal.
LEARN MORE