Texas Cities Wouldn't Be Able to Ban Oil Drilling Under Bill
Lauren Etter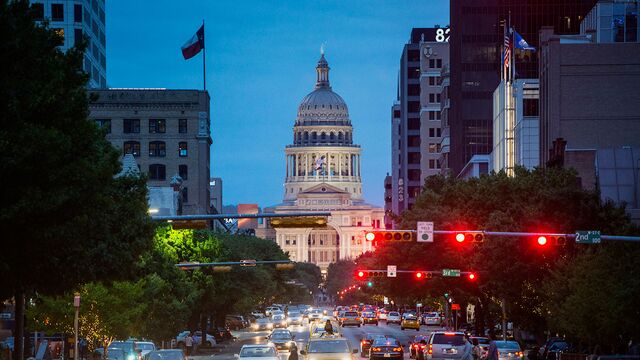 Texas cities would no longer be able to ban oil and gas companies from drilling inside municipal limits under a bill lawmakers sent to Governor Greg Abbott.
Final passage of the legislation in the state Senate on Monday is a win for the oil and gas companies. The industry considered the measure one of its top priorities of the year after a suburb of Dallas voted to ban fracking, the process of using water, sand and chemicals underground to break up rock and free trapped oil and gas.
"It's going to be one of the most important bills that passes the legislature this session," said Bill Stevens, a lobbyist for the Texas Alliance of Energy Producers.
The Texas legislation signifies a broader struggle taking place in the state legislature and across America over cities' ability to enact laws that are more restrictive than state laws. Municipalities in several states have been under pressure to defend their rights to local control on issues such as gun control, gay rights and environmental regulations.
Abbott, a newly elected Republican, has indicated he'll sign the oil and gas legislation.
The governor has vowed to rein in local ordinances that he says create a confusing patchwork of regulation for businesses. Soon after Abbott took office in January he said the state was becoming "California-ized" as cities passed measures such as bans on plastic bags and cutting down trees.
Municipalities in Texas are fighting hard hard to preserve their rights to local control as Democratic leaning cities clash with the more rural-led Republican majorities in the legislature.
Resident Concerns
The oil industry has been on the defensive since residents of Denton, a suburb of Dallas, voted last year to ban fracking within the city's limits. Residents had said they were tired of wells being drilled sometimes fewer than 200 feet away from homes, and of concerns that fracking was contaminating their drinking water and causing earthquakes.
After voters passed the ban, Denton was sued by the state and the Texas Oil and Gas Association. Both argued that the Texas constitution and state law preempted the right of cities to enact such local ordinances.
Denton has maintained that it believed it could regulate matters to preserve the health, safety and welfare of its residents. The two lawsuits are pending.
"Pretty much, it means that the ban will be unenforceable," said Chris Watts, the mayor of Denton. The city is considering whether it can rewrite its ordinance to comply with the legislation, he said.
Silver Lining
Oil companies represent one of the most powerful industries in Texas. While the Texas economy is much more diverse than it was three decades ago, oil and gas still makes up almost 3 percent of total employment, according to the Federal Reserve Bank of Dallas.
Bennett Sandlin, executive director of the Texas Municipal League, said the bill had a "silver lining" in that it allowed cities to retain some important elements of control, including the ability to regulate noise, lighting and the proximity of oil drilling to homes and schools.
Environmental groups said they feared for the worst.
Hundreds of local ordinances that regulate oil and gas development may be in jeopardy, said Luke Metzger, director of Austin-based advocacy group Environment Texas.
While the bill allows cities to regulate so-called surface activities, it says that such regulations must be "commercially reasonable." That means local rules that require operators to have emergency valves that shut down wells during hurricanes, or allow for city officials to investigate drilling wells, could be subject to legal challenge, Metzger said.
"This goes far beyond just stopping Denton-style fracking bans and potentially undermines many other important protections that shield our families from some of the worst impacts of dirty drilling," he said.
Before it's here, it's on the Bloomberg Terminal.
LEARN MORE