Obama Plugs Trade, Racial Harmony in Letterman Top-Ten
Angela Greiling Keane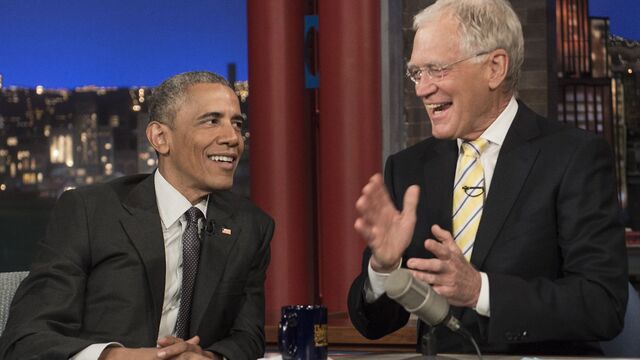 In between the top-ten list and jokes about playing dominoes together after they both step down from their respective jobs, President Barack Obama promoted global trade and racial harmony during his final appearance on the "Late Show With David Letterman."
Obama traded G-rated humor with the retiring late-night host in his eighth and final appearance with Letterman, taping the show Monday afternoon in New York.
"How can we send a message to young people of color and minorities, particularly young men, saying your lives do matter and we're going to invest in you before there's a problem?" Obama said in response to Letterman's question about responses to race-tinged riots in Baltimore and elsewhere.
Obama's appearance on the show is both a capstone for the late-night host's career and an opportunity for a politician fond of using talk shows to take his policies to voters.
Obama dead-panned responses to some of Letterman's jokes, once even laughing at his own comedy before finishing the line.
"I was thinking you and me could play some dominoes together," Obama said when Letterman asked him what he plans to do when his presidency ends in January 2017. "We could go to the local Starbucks and swap stories."
Trade Talk
Obama has been a regular on the late-night circuit in his more than six years as president. Last month, his headlining set at the annual White House Correspondents' Association Dinner rivaled that of comedian Cecily Strong of Saturday Night Live.
It wasn't all jokes on Letterman, who asked Obama about global trade, an issue that's flummoxed Obama given a lack of Democratic support and Republican reticence to work too closely with a Democratic president.
Speaking to the show's nearly 3 million average daily viewers, Obama said the U.S. will fall behind without a new trade pact.
"It's going to be important partly because China's out there competing in these areas," Obama said of getting a trade promotion authority bill through Congress and signing a 12-nation Trans-Pacific Partnership agreement. "If we don't write the rules, they're going to be out there writing the rules."
Letterman, 68, will host his final CBS show on May 20 before he's succeeded by Stephen Colbert. Obama also was one of the final guests on Colbert's Comedy Central show, "The Colbert Report."
Promoting Agenda
In that appearance and on other late-night shows, Obama has promoted Obamacare, which struggled to enroll younger people. Earlier on Monday at Lehman College in the Bronx, Obama announced a new nonprofit, the My Brother's Keeper Alliance, aimed at helping young minority men in low-income areas.
Obama's most recent appearance on late-night TV was March 12 on ABC's "Jimmy Kimmel Live!" in Los Angeles, where he discussed protests against the police in Ferguson, Missouri. He'd postponed a scheduled July spot on Kimmel's show, citing world events including the downing of a passenger plane over Ukraine.
"Kimmel had an audience of 3.9 million people," said Martha Kumar, a professor of political science at Towson University near Baltimore who specializes in how presidents communicate. "That is an audience this president -- and any president -- wants to reach."
Obama, who has sat for more than 900 interviews in office, is particularly keen to target the younger audience that such shows draw, she said.
Obama, 53, became the first sitting president to appear on Letterman's show on Sept. 21, 2009, and appeared most recently on Sept. 18, 2012, according to the show. First Lady Michelle Obama was a Letterman guest on April 30, trading parenting tips with the host.
Before it's here, it's on the Bloomberg Terminal.
LEARN MORE