Is Carly Fiorina a Chip Off the Old Block?
The candidate's dad, a Federal judge and law professor, was tough on crime—and, having helped appoint Ken Starr, tough on the Clintons.
undefined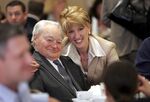 On the trail, Carly Fiorina makes much of her rise from humble secretary (albeit Stanford-educated) to CEO, before leaping into the political world. In fact, she has an impressive conservative pedigree. Her father, Joseph Tyree Sneed III, who died in 2008, was a law professor at the University of Texas, Stanford, and Cornell, the dean of Duke Law School, a deputy attorney general under President Richard Nixon, and a longtime senior judge on the Ninth U.S. Circuit Court of Appeals in San Francisco. In fact, a few of Sneed's opinions and actions have made their way into the conservative canon, including the following:
"Three Strikes"
A dissent in the 2001 case of Andrade v. Attorney General of the State of California, in which a man who'd shoplifted nine videotapes from two Kmart stores had been sentenced to life in prison because of prior arrests (which bumped his misdemeanors up to felonies) and California's "Three Strikes law."
Sneed's argument (which was later upheld by the U.S. Supreme Court):
The sentence imposed in this case is not one of the "exceedingly rare" terms of imprisonment prohibited by the Eighth Amendment's proscription against cruel and unusual punishment ... Two consecutive sentences of 25 years to life—with parole eligibility only after the minimum 50 years—is obviously severe. Nevertheless, it is the sentence mandated by the citizens of California through the democratic initiative process and, additionally, legislated by their elected representatives. Cal. Pen. Code § 667(e)(2)(A) ("three strikes" provision mandating minimum term of 25 years for recidivist felon) ... It has long been the law of this Circuit that, "[g]enerally, as long as the sentence imposed on a defendant does not exceed statutory limits, this court will not overturn it on Eighth Amendment grounds."... This case presents no opportunity to set aside, or qualify, this long established and sound precedent.
Drug-related evictions
A dissent in the 2001 case of Rucker v. Davis regarding the eviction of public housing tenants for illegal drug-related activity, including, among others, a 63-year-old grandmother whose "mentally disabled daughter" was caught with cocaine three blocks from their apartment, and two other grandparents who claimed to have no prior knowledge that their grandsons smoked marijuana.
Sneed's argument (which was later upheld by the U.S. Supreme Court):
Congress authorized a tenant's eviction from public housing when that "tenant, any member of the tenant's household, or any guest or other person under the tenant's control" engages in "any drug-related criminal activity, on or off such premises." The question here presented is whether this language permits local [public housing authorities] to evict tenants who were ignorant of their household members' or guests' drug use ("ignorant tenants"). The answer to this question should be that it does permit such evictions. The Department of Housing and Urban Development (HUD), the agency charged with administering public housing, properly concluded that the statute did authorize the eviction of ignorant tenants."
Gay discrimination
Partial dissent in the 1979 case of DeSantis v. Pacific Telephone & Telegraph Company bringing together several homosexual plaintiffs' claims that their employers or former employers discriminated against them in employment decisions because of their sexual preference, seeking protection under Title VII of the Civil Rights Act and Section 1985(3) of Title 42 of the United States Code.
Sneed's argument:
With respect to the appellants' section 1985(3) claims (Part III of the majority opinion), I should like to observe that the appellants fail because discrimination against homosexuals does not rest on the class-based, invidiously discriminatory animus required by section 1985(3), as interpreted by Griffin v. Breckenridge, 403 U.S. 88, 91 S.Ct. 1790, 29 L.Ed.2d 338 (1971). Many groups, quite satisfactorily subject to identification, are not within the ambit of section 1985(3)'s protection. This section is not a writ by which the judiciary can provide comfort and succor to all groups, large and small, who feel social disapproval from time to time. Like many others, homosexuals do not enjoy section 1985(3) protection.
Kenneth Starr and Whitewater
Sneed was part of a three-judge panel in 1994 that ousted Robert B. Fiske Jr. (who had been appointed as special prosecutor in the Whitewater inquiry by Attorney General Janet Reno) and replaced him with former Bush administration Solicitor General Kenneth Starr.
From Duquesne University School of Law dean Ken Gormley's book The Death of American Virtue: Clinton vs. Starr:
"Senior Judge Joseph Sneed in San Francisco, it turned out, championed Starr's appointment and pushed the hardest, for reasons the press would never detect. A strong conservative who had worked in the Nixon Justice Department, Sneed had served from 1971 through 1973 as tax professor and dean at Duke Law School. There, one of his star students had been an earnest young man named Kenneth Winston Starr. Sneed, speaking from his San Francisco judicial chambers, where he still reported to work after turning eighty, would later reflect that Starr had made a brilliant impression on him. "Just personally, I really like him, and he was smart," said Sneed. He also appreciated the fact that Starr hailed from Texas. Sneed's own great-granddaddy had been a preacher who settled in Calvert, Texas, and then struck it rich in oil. The Ninth Circuit judge would later joke that Starr's Texas roots boosted his credentials as independent counsel. "Yes, that's true," the elderly judge chuckled. "That's not a negative." 
Before it's here, it's on the Bloomberg Terminal.
LEARN MORE