In a Sea Change, Republicans See Baltimore as a Story of Poverty, Not Crime
Is good, old-fashioned, tough-on-crime Republicanism finally at an end?
by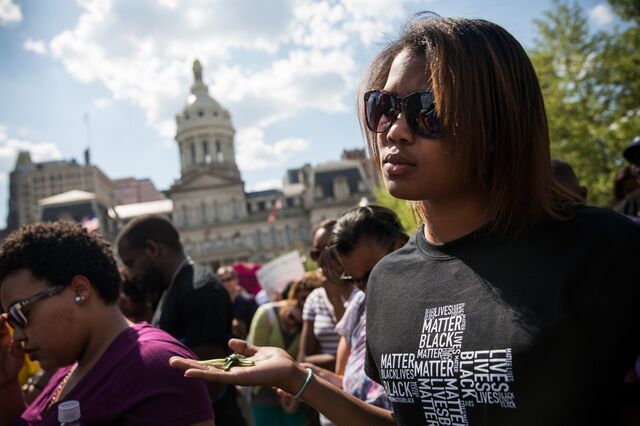 COLUMBIA, S.C.–Shortly before he'd address a room of South Carolina Republicans, Rick Santorum admitted he'd been wrong. Hundreds of miles away, civil unrest in Baltimore was transforming into citywide protests. Santorum, who'd represented Pennsylvania in Congress from 1991 to 2007, admitted that his era had responded to crime with policies that hollowed out urban communities.
"I always say that I don't change on issues," he told Bloomberg News during a roundtable with reporters. "This is one on which I have, actually. We voted for a lot of these drug laws, and federal drug laws, and three strikes you're out; those kinds of things. We have to look at the huge rates of incarceration and the ability of a person to be successful in society. We have to take a step back and see if there's a better approach with a lot of these non-violent drug crimes."
Just outside, surrounding Santorum, were some of the country's most resolutely conservative party activists. They had held the state for Republicans in every presidential election since 1980; they'd produced Lee Atwater, the strategist who turned an ex-con and murderer named Willie Horton into Michael Dukakis's de facto running mate.
And they were not knee jerk in their reactions to Baltimore in the past week. They were struggling with it. At South Carolina's annual Republican convention, and at The National Review Institute's Ideas Summit in Washington, D.C., both activists and potential candidates for the presidency eschewed tough-on-crime rhetoric in favor of hard thinking about why parts of Baltimore had become so seemingly hopeless.
This was not inevitable. It was new. The Baltimore uprising broke out 23 years after the Los Angeles riots, and in the politics of 1992 both Democrats and Republicans scrambled to sound more pro-cop and anti-criminal. Then-Arkansas Governor Bill Clinton campaigned on "zero tolerance" policing; his wife, now the Democratic frontrunner for president, praised her husband's policy that "any student who comes to school with a gun will be expelled and punished as a condition of federal aid." Then-President George H.W. Bush dispatched a spokesman to say that "root problems that have resulted in inner-city difficulties were started in the 60s and 70s."
Bush's successors, genetic and otherwise, have been more measured. In a Thursday interview with National Review editor Rich Lowry, former Florida Governor Jeb Bush gave a little praise to President Obama – "he had a sentence about the decline of families in urban poor America" – while criticizing social welfare programs in a lighter tone than his father.
"There are much broader issues that go along with this, pathologies that are being built, of people that are being stuck in poverty, where you're born poor today and you're more likely to stay poor," said Bush. "I believe conservatives have a better approach. [President Obama's] approach is to say that conservatives haven't offered up enough money to create programs that have been successful. Do we need to go past $10 trillion? At what time do we say these top-down approaches have failed?"
He said nothing about policing. Neither did Nebraska Senator Ben Sasse, a veteran of the George W. Bush administration who addressed the National Review Institute's Thursday dinner.
"There isn't a policy solution first," Sasse said. "There has to be a shared cultural understanding of the value of hard work… we should be making the kinds of societal investments that make it possible for people to lift themselves out of poverty and benefit their neighbors." 
The analyses weren't necessarily surprising, considering the setting. The summit took place just blocks from the White House, in a hotel that broke up the long talk sessions with coffee and wine. Sasse quoted the work of Arthur Brooks, the president of the American Enterprise Institute; Bush quoted the work of an AEI scholar, Charles Murray. That sparked an inevitable progressive backlash–Murray cannot be mentioned without someone pointing to his race science in The Bell Curve–but Bush was talking about the root causes of poverty, not race.
And when Bush arrived in South Carolina, he found conservative Republicans who agreed with him. A midday election for party vice-chairs saw a black man, Nse Ekpo, win a seat over a white man who told delegates of his work at a mostly-minority school. ("I was born in America," joked Ekpo. "I have my birth certificate to prove it.") In hallway conversations, the Republicans mostly talked about Baltimore as an opportunity for reform, not a hotbed of crime and looting.
"It's a really hard position, because it's institutionalized," said Joe Cali, a 67-year-old Navy employee who'd moved to the state from New York. "A friend of mine used to be a New York City policeman, and he said to me: Joe, it's really hard to go home. When you're swimming in the sewer every day, it's hard to realize when you're not in the sewer. In Baltimore the sewer becomes a way of life. And it's not their fault." 
Karen Minnis, a 64-year-old grandmother, said that she was listening closely for the "substance" candidates offered when asked about Baltimore. "The deterioration of the family is the only answer," she suggested. Ken Battle, a 59-year African American military retiree, said that the rest of the answer was tightening up welfare payments.
"Temporary assistance for needy families should be going toward needy couples, which would strengthen the black family," he said. "Instead, there are waivers for single parents, and that does not strengthen the black family."
Santorum did not endorse that idea, but did talk to South Carolina Republicans about making taxes more family-friendly. "There are urban communities where, on average, three out of four kids are being raised without a father," said Santorum. That was factoring into a tax plan—still not finalized, pending a presidential run—that would be designed to keep families together and encourage marriage. "Larger deductions for children is one area we're looking at," he said.
After a nearby breakfast for Republican delegates, South Carolina Senator Lindsey Graham offered his own ideas. None of them assumed that tougher law enforcement was needed in Baltimore.
"The idea that the police can be held accountable is good, because I know countries throughout the world where the police are never held accountable," said Graham. "I know countries where the police are an extension of a power agenda or a few people." 
Graham's focus was really on urban economics. "You need some type of effort at the national level to find a tax policy that will reward a business for hiring there," said Graham. He paused to remember a name. "Who's the L.A. guy? Magic Johnson! Magic Johnson is trying to create a business zone—Jack Kemp had this idea, business zones within inner cities. Businesses goes to place where they're welcome. South Carolina got Boeing to come here because we were welcoming."
As Graham acknowledged, the idea was not his own. It was not even unfamiliar to Baltimore. The city had specifically targeted the area where Freddie Gray lived and tied, pouring in more than a hundred million dollars to renovate homes and attract new employers.
To Republicans, this was not evidence to move on from the "enterprise zone" theory. It was proof, as if more was needed, that you could not patch up the city with money. If it was run by Democrats—if it was run on that theory—no amount of investment would work.
"Baltimore has been an example of the failed welfare state," said Texas Senator Ted Cruz, the only declared presidential candidate at the convention. "Baltimore has been run by Democrats, for Democrats, for a long, long time, and the reality is you see a lack of economic opportunity. The best cure for poverty is a job. When my dad was washing dishes for 50 cents an hour, and couldn't speak English, he was starting on the first rung of the economic ladder, and wanted to keep climbing to the second and third, and achieve the American Dream." 
In his own speech to the South Carolina Republicans, Graham struck the same notes as Cruz—the same notes as Kentucky Senator Rand Paul when he speaks to black audiences.
"I see a Republican Party going to Baltimore and shutting down failing schools, replacing them with something that works," said Graham. "I see a Republican Party giving Baltimore and every other big city hope that they haven't had in eight years." 
As the weekend ended and the South Carolina GOP booths were packed up, the poverty-not-crime theory of Baltimore had become the standard. Wisconsin Congressman Paul Ryan, who had carefully toured poor urban communities to find "stories of redemption," told Face the Nation's Bob Schieffer that Republicans wanted to prevent future Baltimores by freeing people from the state.
"I would consolidate many of our federal poverty programs into flexible programs to go to our states to customize a welfare benefit for a person's particular need," he said, "because what you do when you stack up all these poverty programs on top of each other, we have this thing called the poverty trap, where we're actually disincentivizing a person from getting on with their life and going to work."
Baltimore's political leaders would not accept that theory. Neither would many of the protesters, who saw the problem with their neighborhoods as joblessness colliding with an occupying police force. Yet the Republicans, who'd so reliably called for tougher sentencing and more cops, had seemingly moved on.
Before it's here, it's on the Bloomberg Terminal.
LEARN MORE