Brilliant, or Blunder? A Rashomon Roundtable on Carly Fiorina's Compaq Acquisition
The evolving opinions about a candidate's most important business decision.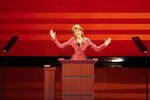 Trying to solidify Hewlett-Packard's standing in the first rank of computer makers, then CEO Carly Fiorina in 2001 consummated a $24 billion deal to buy Compaq, a venerable company by tech standards. The deal was derided by many on various grounds: the precipitous decline of HP's stock price, the layoffs that followed in its wake, and the sense that Compaq would distract the company from its core missions. Fiorina was forced out by the board by 2005. But in the years since, views of the deal have become more complicated as the following chronological compendium shows:
2001
"This move makes HP look much more like IBM and, in our opinion, makes strategic sense ... There will obviously be regulatory and enormous execution hurdles, but, with the addition of Compaq, HP should be better positioned to move forward on every one of these fronts." —Merrill Lynch analyst Tom Kraemer
"Most people who are against the deal are voting with their feet ... we don't like what it does to the business mix." —Thomas Rath, investor with Safeco Asset Management Co.
"I firmly believe that partnering with Compaq will not give Hewlett-Packard what it needs most to create additional stockholder value—expansion of its printer and imaging business as well as the higher-end segments of its services and server businesses." —Walter Hewlett, son of HP co-founder William Hewlett, in a 70-page statement filed with the SEC
"I think it looks desperate. I don't see a bright side to it. I think they're both struggling and they're throwing something up against the wall to see if anything sticks." —Robert E. Mittelstaedt Jr. of the Wharton School
"My view of this deal is improved mainly by seeing Carly Fiorina. She's obviously a leader, and she really understands the factors involved in the business process." —Robert O. Graham, CTO at Infocrossing Inc.
"We had a strong negative rating on this merger when it was announced and now have ... moved past neutral, and we're probably 2 inches into positive territory." —Paul McGuckin, analyst
"Fiorina and Capellas haven't had any track record of doing this. HP's always been a friendly company, and friendly, soft and cuddly companies have a lot more trouble in mergers, unlike hard-as-steel companies like Computer Associates." —Jonathan Eunice, analyst at Illuminata Inc.
"Carly is putting her job on the line." —Brett Miller, analyst at A.G. Edwards & Sons Inc.
"Even the most profitable PC makers do not seem to have [size and] scale comparable to IBM's, and those PC makers are doing much better ... Carly may wish to take H-P into services, but I do not see how acquiring Compaq could be anything but a distraction if she wants to move H-P in that direction." —Eric Clemons of the Wharton School
"This is not a case of 1+1=2, more like 1+1=1.5." —Gartner Research analyst Todd Kort
2002
"The dumbest deal of the decade." —Michael Dell, founder and CEO of Dell Inc.
2004
"My sense is that they have been able to do a lot of [positive] things, post-merger, in terms of the operational side. It seems they have not had major battles after the merger, which is typically the case with many large transactions." —Harbir Singh of the Wharton School
2005
"First, under the only lens that matters, did the famed merger that Fiorina engineered between HP and Compaq produce value for HP's shareholders? Second, with that merger nearly three years past, is HP in shape to thrive in its brutally competitive world? The answers are no and doubtful." —Carol Loomis, Fortune magazine editor-at-large
2007
"Public opinion about the merger has fluctuated over the years, but people don't talk about it anymore because its initial assumptions have been proven right ... Ultimately, it turned out to be a good move." —Robert Burgelman of Stanford's business school
"It took somebody with more operations experience to make the merger really work ... I think when (Compaq CEO Capellas) left, the operations stuff was handed to Carly, and she didn't have that strength. Obviously, Mark Hurd does." —Arch Currid, head of corporate public relations at Compaq at time of the merger
"We know initially that the merger was a very big thing to swallow ... but I think now it's pretty much been digested. Now HP is really focused on growing its revenue and working on those parts of the business that still need some work." —Gartner Inc. analyst Charles Smulders
2008
"Today, the merger is nearly six years old. And, surprise, surprise—it's turned out to be a sensational combination, whether measured by market share, market leadership or increased shareholder value." —Ben Rosen, non-executive chairman of Compaq from 1982-2000
2010
"There were plenty of skeptics to the bold actions taken by HP. But history has a way of straightening out the facts and the noted opinions of outside experts. The merger of HP and Compaq was an unqualified success." —Former Intel chairman Craig Barrett in a San Jose Mercury Times op-ed
"Fiorina's relentless pursuit of size and market share only served her personal ambition to be celebrated as 'the most powerful woman in American business.' ... HP needed a good trainer. It did not need a chain saw." —David W. Packard, son of HP co-founder Dave Packard, in a San Jose Mercury Times rebuttal op-ed
2011
"You look back now, and Carly was right—there was a lot of synergy between the two companies. The merger worked out well in retrospect." —Tommy Wald, CEO of White Glove Technologies
"In retrospect, yes, it was a good move for HP and for the partner community. I was wrong, and I'm glad they proved me wrong." —Don Richie, CEO of Sequel Data Systems
"I think it was a fantastic move. I thought it was a fantastic move at the time, too. HP would definitely not be where it is today without Compaq." —Geoffrey Lilien, president of Lilien Systems
"The merger turned out to be a good thing ... There were some administrative headaches, of course, but overall they did a very good job with the integration." —Jane Cage, COO of Heartland Technology Solutions
Before it's here, it's on the Bloomberg Terminal.
LEARN MORE