'I Gotta Pay Our Bills,' Bill Clinton Says of Six-Figure Talks
Justin Sink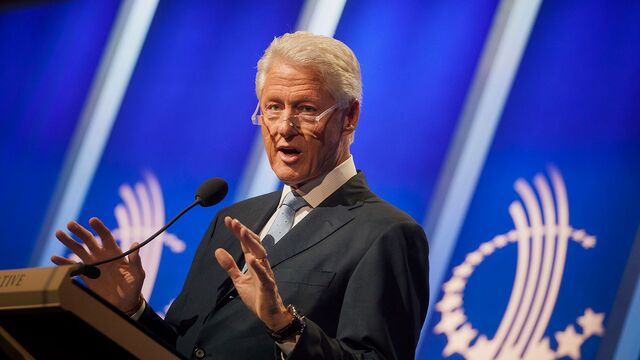 Former President Bill Clinton had one reaction when asked if he would continue to collect fees on the order of $500,000 for speeches during his wife's presidential bid: "Oh, yeah. I gotta pay our bills."
Clinton defended speaking fees that often are hundreds of thousands of dollars, saying there were no conflicts of interest, in an interview with NBC News broadcast Monday.
The 42nd president said he and former first lady Hillary Clinton, now a presidential candidate, have both contributed more than 10 percent of their earnings from speeches to their family foundation.
He also said it would be difficult for him to have an ordinary business relationship with many companies because it would make them targets. He said he has turned down speeches he worried might be inappropriate.
"I work hard at this," Clinton said. "I spend a couple hours each day doing the research. People like to hear me speak. And I have turned down a lot of them. If I think there is something wrong with them, I don't take it."
The speaking fees -- a Washington Post analysis found Bill Clinton made $104.9 million in speaking fees from when he left the White House in 2001 to when Hillary Clinton stepped down as secretary of state in 2013 -- have come under scrutiny since his wife declared her candidacy for the Democratic presidential nomination last month. So have donations to the Clinton Foundation after the nonprofit group conceded that it had made mistakes in how it disclosed foreign donors and said it would refile some tax forms.
Pay Bills
Clinton said he would continue to give paid speeches during his wife's presidential bid to "pay our bills" and that he didn't know if he would step down from the foundation if she were to win the White House.
"I'll decide -- if it's the right thing to do, I will," he said.
Criticism over his family foundation's donations from foreign governments is politically motivated and there is no evidence to support suggestions that the gifts influenced Hillary Clinton's behavior as secretary of state, the former president said in the interview.
"I asked Hillary about this and she said, you know, no one has ever tried to influence me by helping you," Bill Clinton said. "No one has even suggested they have a shred of evidence to that effect."
'Deliberate Attempt'
There has been a "deliberate attempt to take the foundation down," Clinton said. But he doesn't believe there was "anything sinister in trying to get wealthy people in countries that are seriously involved in development to spend their money wisely in a way that helps poor people and lifts them up." He added that the foundation had never done anything "knowingly inappropriate."
The organization also said it would limit gifts from foreign governments to six Western nations.
Former President Clinton said the policy change "absolutely" didn't suggest that it was inappropriate to have accepted millions from nations such as Saudi Arabia.
"It's an acknowledgment that we're going to come as close as we can during her presidential campaign to following the rules we followed when she became secretary of state," he said.
Republican presidential candidates have criticized the foundation's gifts, with Senator Rand Paul, a Kentucky Republican, calling the contributions "thinly veiled bribes" in an interview with Politico late last month.
"The normal Clinton response is to cover up, deny, refuse to acknowledge," Paul said. "But the question is whether the country will rise up and respond to the unseemly nature of accepting foreign donations."
The Clinton Foundation focuses such issues as economic empowerment, education, environment and energy, health systems and nutrition, according to its website.
The former president is now traveling in Africa, visiting foundation programs in Tanzania, where it helps fund a vaccination center, and Liberia, where it assists the government in fighting HIV/AIDS.
Before it's here, it's on the Bloomberg Terminal.
LEARN MORE