Behind the Scenes With Ben Carson Before His Campaign Announcement
The newly minted Republican presidential candidate doesn't sweat rehearsals or prepared speeches–and that's a strength and a weakness.
by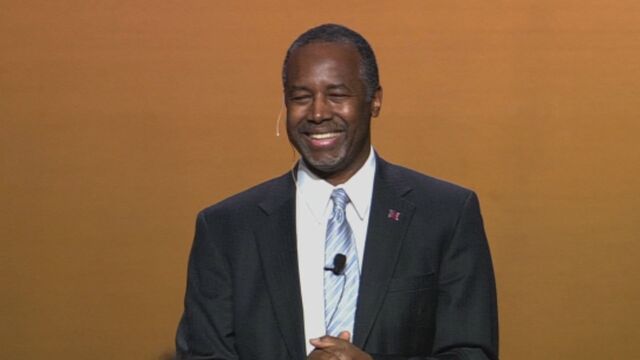 DETROIT—"This is the most important part of the show!" the stage manager declared Sunday night, after the third failed attempt to nail the closing number during rehearsals. After a pause, he realized his mistake. "Oh well, besides Dr. Carson's remarks, of course."
Ben Carson, sitting in the front row of the amphitheater he visited as a child during his hardscrabble youth in Detroit, could only chuckle.
It may have been easy to overlook Carson the candidate during the Sunday night rehearsals and even on Monday, given a presidential campaign launch that featured two singing groups (including the Detroit gospel choir Selected of God of Eminem's Lose Yourself fame), a five-minute video, and a close that featured a descending stage-sized American flag as a backdrop while Carson and his family sang the Battle Hymn of the Republic. 
But for Carson to have any chance of making a sustained impact on the Republican field, his top advisers say he will have to take center stage, delivering the speeches that drew the grassroots support in polls and donations that persuaded him to run.  If Carson uses those same speeches to connect with broader audiences, his aides said in interviews, a pathway may appear for their long-shot candidate to break through.

Even with low name identification,  Carson's "Facebook presence is out of this world," said Barry Bennett, his campaign manager. "We do things with 150,000 likes. The campaign dog got 65,000 likes," he says (which is actually underselling the picture of Boomer the boxer. It is up over 66,000 likes now.) 
In an interview, Carson pointed to debates as a time when he'll really be able to shine, or, perhaps more important in his mind, convince people he's "not the hateful, bigoted person the media makes me out to be."
Banking on Carson's performance is a proven strategy among conservative grassroots audiences. But it's a gamble when targeting a broader segment of the Republican Party, especially since Carson himself concedes that he often doesn't know what exactly he's going to say when he walks up on stage. He doesn't use prepared remarks; his aides seldom know what he will focus on.
"I'm really anxious to hear what you're going to say tomorrow," one passerby told Carson on the street outside the back exit of the Music Hall Center for the Performing Arts. 
"I'm anxious to hear what I'm going to say tomorrow," Carson replied, on the eve of his most important speech to date. "I'm waiting for inspiration."
There was no shortage of issues he wanted to touch on–topline points about his economic proposals, his go-to line about not being politically correct, his view of the current state of the "political class," and his equally negative view of the state of the U.S.  And there was his mother, who sparked Carson's improbable success story through sheer force of will.
All would be included in the next day's remarks, especially his mother, who as Carson learned that afternoon, had taken a turn for the worse in her battle with Alzheimer's. He would cancel his planned trip to Iowa Monday afternoon and go to Texas to be by her side.
His own aides say they can only hope he's ready for the days ahead. Carson has told everyone within hearing distance over the last few days that he will try to avoid the types of inflammatory issues and statements that led Democrats to peg him as a candidate on the ideological fringe.
There are other reasons for skepticism. Carson's not much for courting big-money donors, a crucial component of any race given the current campaign finance system. "I'd like to see myself more as the people's candidate," he said. "That's why I'm not running around boot-licking. That's not where I am."
Eventually, his theory goes, top donors will look at the field and recognize that he's a player. At that point–so long as they realize their money will have no impact on his policy positions–"We would welcome their contributions," he said.
On the race itself Carson seems similarly sanguine. "I made a decision that I would just keep going through the doors as long as the doors are open," he said. "If the doors close? I'll sit down."
It may not be the fire-in-the-belly statement that some supporters would want to see, but it's typical Carson. As his oldest son, Murray, put it: "He's happy just being who he is."
Before it's here, it's on the Bloomberg Terminal.
LEARN MORE