John Kasich Says Odds of Presidential Bid 'Pretty Good'
The Ohio governor says he is still not certain he will hop into the growing field of Republican presidential candidates.
by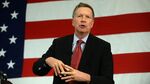 Ohio Governor John Kasich says he is not much good at predictions, even when it comes to whether he plans to run for president. 
"I thought the Spurs would beat the Clippers, and I picked the wrong horse in the Kentucky Derby," Kasich told Fox News Sunday when asked how likely it was that he would hop into the growing Republican presidential field. "I don't do odds. I find out they never really work out very well."
But, he added, "It looks pretty good."
On April 20, Kasich formed a 527 political organization, the first step for many would-be candidates. He has recently traveled to New Hampshire and South Carolina, two states with early primaries.
In an interview last week with CNN, Kasich said that his decision to run would be largely based on whether he determined he could raise enough money to keep up with his better-funded rivals. In 1999, he formed an exploratory committee, but did not ultimately run for president, citing poor fundraising. This time around, the money question does not yet appear to have been answered. 
"We're not going to be able to raise the kind of money that Jeb Bush is raising, but we want to raise enough money that we can be competitive," the governor told Fox News Sunday.
While Kasich mulls his decision, at least three more Republicans are preparing to enter the race this week—former Arkansas Governor Mike Huckabee, former Hewlett-Packard executive Carly Fiorina, and retired neurosurgeon Ben Carson. They'll join a fast growing field already competing for donors, a fact that's not lost on Kasich.
"If it goes great, I'll be happy. If it doesn't go great, I'll be disappointed,"  he said of his as-yet unannounced campaign. 
CORRECTION: An earlier version of this story incorrectly quoted Kasich in the second and eighth paragraphs. It should have referred to Kasich's political organization as a 527, not an exploratory committee, in the fourth paragraph. And it incorrectly said Kasich has traveled to New Hampshire and South Carolina since forming the political organization in the fourth paragraph.
Before it's here, it's on the Bloomberg Terminal.
LEARN MORE