Marilyn Mosby, Prosecutor in Freddie Gray Case, Steps Onto the National Stage
After only a few months on the job, Baltimore's state's attorney has drawn praise for her handling of the case.
by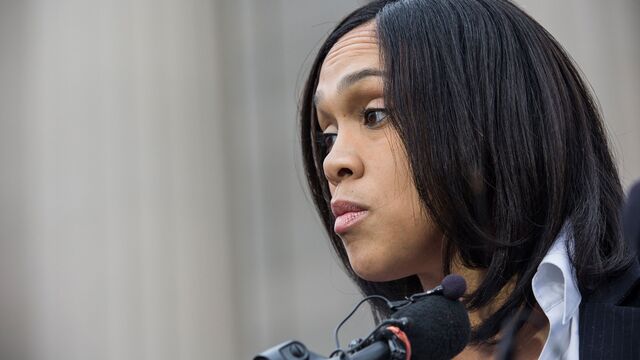 After a week in the national spotlight, Baltimore City State's Attorney Marilyn J. Mosby made her biggest headlines at Friday morning's news conference, announcing that six police officers would face criminal charges related to the death of Freddie Gray, a 25-year-old Baltimore man, last month while in police custody.
Onlookers cheered when the charges were announced, but it is her balancing act of addressing the concerns of police officers risking their lives with those of  protesters across the country rallying against police brutality that has drawn the nation's attention. Mosby referred to several members of her family who have served in law enforcement, but also promised to deliver justice on behalf of the young people of Baltimore at "the forefront of this cause."
"To the people of Baltimore and the demonstrators across America: I heard your call for 'No Justice, No Peace,'" she said. "However your peace is sincerely needed as I work to deliver justice on behalf of Freddie Gray."
As USA Today noted, she has become a major focus on social media—former Daily Beast editor in chief Tina Brown called her a "rockstar." Marc Lamont Hill, a Morehouse professor and CNN contributor, predicted she was about to become "a national black hero."
"She's tough," Kweise Mfume, a former Maryland congressman and NAACP president said in an interview. "That's the first thing that comes to mind. She's tough and she's fair."
Mosby, 35, is the youngest state's attorney of any major city in the country and has  held the job since January, having defeated incumbent Gregg L. Bernstein in the Democratic primary and sweeping past a Republican candidate in the general election. Mfume was one of the first people to endorse Mosby.
"She's only been in office about 120 days, but has been exactly, and behaved exactly, as I thought she would, and that is in a fair, sober, deliberate manner," he said.
She also has the backing of Representative Elijah Cummings, a Maryland Democrat who represents the city, and who gave a conference expressing his support for her before she announced the charges. "I believe in our state's attorney. I voted for her. She's a very impressive young lady and a distinguished lawyer," Cummings said, later adding. "I would be satisfied with whatever she decided—period."
(During another news conference, after Mosby announced the charges, Cummings said "a message has been sent by our state's attorney: That she values every life.")
Her foremost critics at home include the Baltimore police union, which called on her to recuse herself from the case. In an open letter union President Gene Ryan argued that Mosby had some conflicts of interest—including her relationship to William Murphy, the lawyer representing the Gray family, and the fact that her husband, Nick, is a city council member who represents the district where the riots and protests are taking place. 
Asked about that during the news conference, Mosby said: "I uphold the law; he makes the laws."
And despite the wave of attention, her friends say Mosby seems to have her eyes set on staying in Baltimore.
"I don't think she's even thought about any other office," Mfume said. "And I think more than anything people in the city know that about her. They don't think she's trying to springboard to any place."
Billy House contributed to this report.
Before it's here, it's on the Bloomberg Terminal.
LEARN MORE