Iran Debate Gives 2016ers a Chance to Score Political Points
Senators Ted Cruz and Marco Rubio have introduced amendments that, critics say, threaten the bill giving Congress final approval of the nuclear deal.
by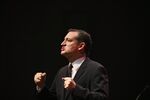 Marco Rubio wants Iran to publicly back Israel's right to exist. Ted Cruz wants to make sure no nuclear deal with Iran goes forward without an explicit congressional endorsement.
The two Republican presidential candidates are pushing amendments to put more teeth in legislation on the Senate floor that would require congressional review of any agreement intended to keep Iran from developing nuclear weapons.
They—along with senators facing tough re-election battles—are trying to burnish their credentials as Iran hardliners during the debate. Supporters of the Iran-deal legislation say, though, that Rubio and Cruz's proposals could scuttle the bill.
"This is a delicate balance," Senator Ben Cardin of Maryland, the top Democrat on the Foreign Relations Committee, said on the Senate floor Thursday. Cardin, who negotiated the compromise measure, urged Republicans to back off amendments that would erode support for it.
"This is an extremely important issue," Cardin said. "It's got to rise above our individual desires so that collectively we can achieve something for the American people."
The bill would allow Congress to review any nuclear agreement with Iran. President Barack Obama would be barred from suspending congressionally enacted economic sanctions against Iran while lawmakers are studying the deal.
After threatening to veto an earlier version of the bill, Obama agreed to accept the measure once changes to it were negotiated by Republicans and Democrats.
The proposal by Rubio of Florida would would bar any sanctions relief until the president "determines Iran's leaders have publicly accepted Israel's right to exist as a Jewish state."
Cruz of Texas would require congressional approval for any lifting of sanctions as part of an Iran deal, instead of providing a mechanism for lawmakers to block an effort to ease sanctions.
Cruz accused Democrats of being "terrified" of having to take a vote on Rubio's amendment on recognition of Israel and criticized the party for opposing changes to the bill.
"I think it's reckless for Democrats to be putting partisan politics above our national security," Cruz said Thursday in an interview with Bloomberg.
The push to amend the bill is opposed by the American Israel Public Affairs Committee, an influential pro-Israel group that spent $3.1 million last year on lobbying, according to the Center for Responsive Politics, a Washington nonprofit group that tracks lobbying and campaign spending.
AIPAC is opposing any amendments—like those offered by Rubio or Cruz—that would jeopardize bipartisan support for the bill, according to a person with the organization who spoke on condition of anonymity.

Rubio also has introduced a separate amendment requiring that any nuclear agreement will be approved only if Iran releases three imprisoned Americans, including Washington Post Tehran bureau chief Jason Rezaian.
Cruz's amendment, co-sponsored by Pennsylvania Republican Pat Toomey, would allow sanctions to be eased only if Congress adopts a joint resolution "stating in substance that the Congress does favor the agreement."
Toomey, a former president of the anti-tax group Club for Growth, is seeking a second Senate term next year in a state that hasn't backed a Republican presidential nominee since 1988. His seat is one of seven that Republicans will defend next year in states Obama won in 2008 and 2012.
Rubio is one of the other six, as is Wisconsin Senator Ron Johnson, who introduced his own amendment requiring explicit congressional approval of any sanctions relief.
The others are Mark Kirk of Illinois, Rob Portman of Ohio, Kelly Ayotte of New Hampshire and Charles Grassley of Iowa.
Kirk, a co-sponsor of Rubio's amendments, has built a record of working with Democrats as he approaches re-election in Obama's heavily Democratic home state. Illinois hasn't supported a Republican presidential candidate since 1988.
Other Republican senators pushing amendments include freshman Tom Cotton of Arkansas, the chief author of an an open letter signed by 46 other Republican senators telling Iran's leaders that they couldn't count on any deal they made with Obama.
One of Cotton's amendments would require a congressionally appointed commission to report on Iran's nuclear activity before any sanctions could be lifted.
Three Senate Republicans have announced their candidacies for the party's presidential nomination for 2016: Cruz, Rubio and Rand Paul of Kentucky.
Paul, who earlier this week sought to rally support from Jewish leaders at in event in New York, hasn't filed any amendments to the bill.
Neither have any of the chamber's 46 Democrats, many of whom urged Republicans to withdraw theirs.
Some Republicans seeking the party's presidential nomination might "want to use this good, bipartisan piece of legislation as a platform for their political ambitions," Harry Reid of Nevada, the Senate's top Democrat, said on the chamber's floor Tuesday. "This bill is too important to be a pawn in anyone's political game."
 But John Thune of South Dakota, the third-ranking Senate Republican, said it would be difficult to get members of his party to back off their push for votes on amendments to the bill.
 "All of our members, 2016ers or not, have some pretty strongly held views about this, and they're going to offer their amendments," Thune said in an interview at the Capitol. "And those amendments, in most cases, I think are going to get votes."
 The compromise, worked out by Cardin and Senate Foreign Relations Chairman Bob Corker, cut from 60 days to as few as 30 days the time Congress has to review a final deal with Iran.
 The compromise also removed language requiring Iran to renounce ties to terror groups before sanctions are lifted, which White House Press Secretary Josh Earnest called unrealistic.
—Michael C. Bender contributed to this article. 
Before it's here, it's on the Bloomberg Terminal.
LEARN MORE