Trump's Stump Message: 'Be Like Trump'
Say what you will about the reality-show star, there's a definite rationale for his candidacy.
by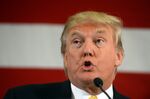 "Nobody thinks I'm going to run,'' grouses Donald Trump about his prospective presidential candidacy, in an interview in the Wartburg College hall where, as he keeps telling me, a record-breaking crowd has come to hear him speak. "They think I'm doing this for my health."
Maybe that's because he's made these threats before. As he himself tells the mostly student crowd in Waverly, Iowa, "I thought about running last time, but my kids were young, and blah blah blah. I thought Romney would do a better job" for the Republican Party. But instead, well, "he choked! They had him wearing cowboy hats at the end, and he's walking out of the Wal-Mart with his cart full of toilet paper, and he can't get out the door because he's never done it before!"
This time, Trump insists, will be different. He's already hiring campaign staff here in Iowa, as well as in South Carolina and New Hampshire, where he's opening a Manchester campaign office on Friday.  "I can tell you," he says, "I'm very far down the road. 
There's no denying that Trump, as a reality TV star and New York City real estate tycoon, has a unique rationale for his candidacy. No one else in the bumper crop of prospective Republican candidates says we won't have to touch entitlements, but must simply bring in more money, as he's been doing all his life. Nor does anyone but Trump hope to inspire young Americans to believe that they can have an even bigger apartment than he has, and an even bigger plane. As the guy who yells, "You're fired!" on The Apprentice, he does indeed get a reaction wherever he goes. (At last week's Washington Correspondents Association Dinner, he swears, "Bradley Cooper walked in and nobody cared'' in comparison to the attention he enjoyed.) No one has his experience in public relations, all the way back to when he used to call my colleagues at New York Newsday in the early 90s and try to plant items about all the hot, famous women who were supposedly after him. And only he can compete with the presumed Democratic nominee, Hillary Clinton, in the amount of attention paid to her hair.
The developer and Art of the Deal author also notes that he can afford to self-fund his presidential campaign, and certainly isn't in this for the money. Like Romney, then, I suggest? Ha, he says, crossing his arms over his chest and casting the former Massachusetts governor as a financial half-pint: "He was ashamed of what he had done—of what he had achieved. And to be honest, his wealth wasn't that great to start off with."
Fortunately for any non-believers in the mostly college crowd, some of whom are taking notes, Trump is also here as a kind of life coach, and tells the audience he has come armed with some words to live by. First, have some losers as friends. "I tell a story, and it's kind of interesting, about a friend of mine who's always been a loser—and a friend who's a loser is the best, because all he does is listen to you all night…"
Another thing: Love what you do, or you won't be any good at it and won't work that hard—like the loser in question wasn't and didn't, until at Trump's urging he stopped working for his dad on Wall Street, which he hated, and got into the construction business, where he's done OK, making "not huge money, but he loves his life."
Finally, think big: "You become another Trump, or do better than me" with "a bigger plane, a bigger apartment,'' he says, drawing guffaws from the crowd.
Trump really has, as the student introducing him says, filled the auditorium in Luther Hall, which seats 750, "a record-breaking crowd for an event like this so far," and notes, as if reading from the would-be presidential candidate's script, that Trump has "award-winning hotels throughout the U.S. and Hawaii."
Trump milks the already warm welcome, of course, standing for a moment at the corner of the stage with his arms open and his palms out, as if saying, "Come to papa, sweet applause."
Despite his claims of being utterly unlike any other pol, he makes a couple of big promises right at the top, including this appealing pledge: "We'll make sure that when you graduate, we'll have a job for you." He also lets students at the small Lutheran college know that they have something important in common: "By the way, I happen to be Protestant. A lot of people don't know that about me, but I'm very proud of it."
Then he vows to do for America what he did for the Trump National Doral Miami—a faded treasure that, he says, "had been abused, just like our country, and run by financial people, like Hillary" Clinton. Until he came along and saved the golf resort with a $250 million makeover.
A lot of what he'd do as president, he says, involves getting "horrible people" instead of lovely but incompetent ones to negotiate trade deals. And if they got the job done, he asks, "would anyone care if they're not nice guys?"
"Nooooo!" answer the nice Iowans.
He wouldn't exactly invite the Chinese over for steaks, as President Obama did, either, but would serve them McDonalds, and make them pick up the tab, too. Still, he wouldn't embarrass America by entertaining them, as he says Obama did, "in a cheap tent. The tent looked like hell."
Trump would bring in so much new money, he swears, that there would be no need to cut Medicare, Medicaid, or Social Security. But that's only one way he differs from other Republicans, who in his view only talk about cutting, and never about building. "Every time I see those guys, they want to cut Social Security!"
Sadly, he says, the country has for too long been run by people who are not as smart as he is, or as successful. Which is why Ford is going to build cars in Mexico—"because we're stupid." Unlike President Trump, who would simply inform Ford that "We're going to put a 35 percent tax on those cars, and if you don't like it, build something here.'' Despite Mexico's narco wars and widespread violence and poverty, he says of that country's leaders, "They're doing a good job, because their leaders are smarter."
And whenever he cedes that some of our own officials and candidates are "nice,'' or that he likes them personally, an insult is sure to follow. Caroline Kennedy, for example, is a "nice person" up against "killers" as our ambassador in Japan. (Killers being a good thing, fyi.)
Of Hillary Clinton, he says, "I like her, but she's got some very big problems.'' Accepting undisclosed foreign donations at the Clinton Foundation is "a far bigger problem than people understand. This is something at the highest levels of wrong."
Though his potential presidential rival Carly Fiorina would seem to come from the same corporate corner of the GOP jungle, he dismisses her, too: "She's a very nice person, but we can't play around with nice people; she was fired from HP—and fired in a vicious manner—and then she ran in California and lost in a landslide" to incumbent Senator Barbara Boxer in 2010. "And now she's running for president? It doesn't work that way."
Though "I'm a conservative Republican,'' he says, "I'm more disappointed in the Republicans, because they talk about Benghazi, and Hillary's e-mail," but then nothing ever comes of it. "They'll never take you to the Promised Land."
Also unlike many other Republicans, he sees our military involvement Iraq as a mistake from the start. "I was never a fan of Bush," Trump says. "Some people in this room probably like him, I don't know why, but that's OK."
When it comes to foreign policy, he tells the crowd, we have to show strength but also restraint, just like he does: "Did you notice that baby was crying for half the speech, and driving me crazy, and I didn't get mad once, or say anything, because I didn't want to offend the parents? That's called restraint." His qualifications are obvious, he said in closing, since "I'm the king of zoning! Anybody who gets zoning to build a city on the West Side" of Manhattan, "which is what I did, with Trump, Trump, all over the place, drives you crazy—there were riots!—and I got it approved, and that's tougher than dealing with China or Mexico!"
A college official in the audience, Edith Waldstein, vice president of enrollment, was not enthralled. "It was interesting,'' she said, which is Midwestern for different, which is hardly ever a compliment. "But there were some mixed messages I still have to process, and some I disagree with. I'm still weighing candidates on both sides."
His pitch worked better for 21-year-old Bradley Waller, from Maquoketa, Iowa: "He is what he is, and you have to deal with that, and that's what we need more of.'' Trump couldn't have said it better himself, and, if he actually runs, probably will at some point.
Before it's here, it's on the Bloomberg Terminal.
LEARN MORE