Ted Cruz Says 'Honest' Socialist Sanders Is 'Healthy' for Democrats
The Republican hopeful predicts his party can take a majority of the Hispanic vote in 2016.
by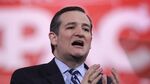 Texas Senator Ted Cruz says Vermont Senator Bernie Sanders' entry into the 2016 presidential field is a "healthy'' development because it will force Democrats to debate "what degree of socialism they want to embrace.''
"Hillary's economic policies often end up pretty close to Bernie Sanders','' said Cruz, who is seeking the Republican nomination, on Bloomberg's With All Due Respect television program.
"It'll be interesting having her explain whether or not she agrees with Bernie Sanders with policies that he'll describe as socialism,'' Cruz said.
"I'll give him credit for candor,'' Cruz added. "Bernie Sanders ran for years as a socialist. That's honest and straightforward.''
Cruz sidestepped questions over whether he would rescind President Barack Obama's executive orders easing deportations for undocumented individuals brought to the country as children. He's been a leading critic of the president's November orders that extended those protections to the parents of children.
"Every executive action the president has taken that exceeds his constitutional authority that disregards the law, it would be my intention to rescind,'' Cruz said.
Many of his Republican colleagues agree, an unpopular position among many Hispanic voters. Even so, Cruz said his party should be able to capture a majority of the Latino vote in the next election. The Republican nominee in 2012, former Massachusetts Governor Mitt Romney, who also took a tougher position on immigration than Democrats, got 27 percent of the Hispanic vote, according to exit polls.
"If you look at who has been hurt under the Obama economy, the Hispanic community has been hammered,'' said Cruz, who spoke about his Cuban heritage, including eating beans and rice and roasting whole pigs on the holidays.
Cruz said he listed himself as Hispanic on his applications to Princeton University, where he studied as an undergraduate, and at Harvard University, where he attended law school.
Despite his references to his heritage, Cruz he declined to speak in Spanish and said he's more of a Texan in at least one way: "I tend to listen to country music more than Cuban music.''
Before it's here, it's on the Bloomberg Terminal.
LEARN MORE