Prominent Martin O'Malley Critic Had Been Fired After Scandal
The former Baltimore mayor battles his critics from airwave to airwave.
by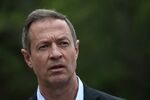 The strange irony of Martin O'Malley's week was that a press corps that already sees him as a long-shot—for good reason, given the primary polls—asked if he had lost his chance at the 2016 Democratic presidential nomination. Some of O'Malley's greatest triumphs had occurred during his seven years as mayor of Baltimore. Some of his most hardened enemies were there, too—and the press found them. 
This was how the nascent campaign organization of a national candidate found itself arguing with a fired cop. Former officer Neill Stanford Franklin was all over the airwaves, most notably MSNBC, giving juicy interviews about O'Malley.
"Oh my God, why did you have to say that name!?" Franklin told MSNBC's Andrea Mitchell. "I understand that he's coming to Baltimore. I left Baltimore city as head of training in 2004. By then we had started these zero tolerance programs under the leadership of then-Mayor Martin O'Malley." Like David Simon, the creator of The Wire, he drew a neon line from the policy to the tragedy of Freddie Gray.
"I don't want to say this," he added, "but I'm going to say it anyway: If he's coming back to town, you may see a riot. I would encourage him not to come back to Baltimore."
The people around O'Malley were furious. No one was reporting the easily-googled fact that Franklin was fired after a corruption investigation. On Wednesday, as Bloomberg News and two other media outlets were with O'Malley, MSNBC's Andrea Mitchell tweeted the video of the Franklin interview with the sensational "riot" claim. After the food giveaway, as I wrote yesterday, O'Malley took questions about his record.
Today, as linked above, Politico's Dylan Byers was the first to report the whole Franklin story. It was a common problem for executive-candidates. In doing their jobs, they'd made enemies; after being elevated to a national level, reporters were burning up phones to reach those enemies. The Andrea Mitchell tweet had been deleted.
"MSNBC should be ashamed of themselves for giving a platform to such hateful and inflammatory rhetoric," said O'Malley spokeswoman Lis Smith. "It was even more deplorable of them to promote it. They did the right thing by pulling back on the story, and let's hope they learn from this experience and exercise more restraint in the future."
By that point, after two days of increasingly higher profile interaction with the media, O'Malley was on CNN's The Lead to sharpen his argument. 
"We never used the term 'aggressive policing,'" he said. "We were very clear with police officers. We wanted them to be assertive when in, pro active in restoring to the good people in every neighborhood their streets from open-air drug dealing, but we also worked every single day on policing our police. We encourage people, Jake, to call about excessive force and discourtesy. We, for the first time we gave our civilian review board their own detectives to investigate these cases and the people in Baltimore on more than one occasion—actually, I was elected—I won every district in the city after having this conversation and talking a someone heckling you, there's not a day when any mayor goes out and does his or her business in a major American City when that doesn't happen."
And Smith was in the gunner's seat again, pushing back on a story in The Daily Beast which argued that O'Malley's Baltimore critics had killed his campaign.
Before it's here, it's on the Bloomberg Terminal.
LEARN MORE