Obama to Unveil Non-Profit in New York to Aid Minority Youth
Justin Sink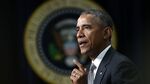 President Barack Obama will help start a new non-profit organization intended to help minority boys and young men when he travels to New York City on Monday.
The organization, called My Brother's Keeper Alliance, will be unveiled during an event at Lehman College in the Bronx, the White House said in a statement.
A White House program called My Brother's Keeper has been part of the administration's response to civil unrest following the recent deaths of black men in interactions with police officers. The announcement comes one week after rioters torched police cars and buildings in Baltimore after the funeral of Freddie Gray, 25, who died April 19 after suffering spinal-cord injuries while in police custody.
The White House program, a partnership with local governments, foundations and businesses, has raised more than $200 million in private donations to benefit child development, school readiness, parental engagement, literacy and school discipline reform. White House officials and celebrities, including National Basketball Association stars Chris Paul and Magic Johnson, have participated in tutoring programs under My Brother's Keeper.
It's not clear how the new organization will differ from the White House program.
On Thursday, Obama told middle-school students at a public library in Washington's low-income Anacostia neighborhood that he wanted to return to community organizing when his presidency ends.
"I'll be done being president in a couple of years and I'll still be a pretty young man," he said. "And so I'll go back to doing the kinds of work I was doing before, just trying to find ways to help people."
Before it's here, it's on the Bloomberg Terminal.
LEARN MORE