Obama Says He Might Go Back to Community Organizing
by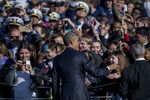 One day when he's done wrangling with the Iranians and congressional Republicans, President Barack Obama plans to get back to where he once belonged.
The most powerful man in the world wants to return to community organizing after he hands over the keys to the White House in 2017, he told middle-school students at a public library in Washington's Anacostia neighborhood today.
 "I'll be done being president in a couple of years and I'll still be a pretty young man," he said. "And so I'll go back to doing the kinds of work I was doing before, just trying to find ways to help people."
Obama, who will be 55 years old when he leaves office in 2017, said his post-presidential agenda includes helping children get educations and better access to the job market, and luring businesses into low-income neighborhoods. Just out of college, he worked on Chicago's South Side as a community organizer, a career choice that earned him much derision from conservative quarters. 
"That's the kind of work that I really love to do," he said, after one child asked what inspired him to seek the presidency.
The president's comments came against the backdrop of unrest in Baltimore, where protests and riots have followed the April 19 death of Freddie Gray, 25, who suffered spinal-cord injuries while in policy custody. Earlier this week, Obama said the violence in Baltimore was indicative of a "slow-rolling crisis" in the nation's inner cities that would require "some soul-searching."
"If our society really wanted to solve the problem, we could," he said at an April 28 news conference. "It's just it would require everybody saying this is important, this is significant, and that we don't just pay attention to these communities when a CVS burns."
 The president has previously hinted that he wanted to dedicate his post-presidential life to addressing those issues. Last June, Obama said at a town hall-style meeting that he and his wife, Michelle, had discussions about "developing young people and working with them and creating more institutions to promote young leadership."
He said at the town hall, however, that his first move, will be to plant himself on "a beach somewhere, drinking out of a coconut." 
Before it's here, it's on the Bloomberg Terminal.
LEARN MORE