Jeb Bush Says He Admires Baltimore Mom Who Slapped Her Son Amid Riots
Bush punts some federal policy questions, but stands his ground on others.
by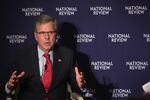 The viral video this week of Toya Graham, the Baltimore woman who repeatedly slapped her son for participating in the riots there, was a "nice visual symbol of what needs to be restored" in America, said Jeb Bush, a probable Republican presidential candidate.
"My mom and that woman who was bringing her child back home have a lot in common," Bush, the son of former First Lady Barbara Bush, said Wednesday at a summit in Washington sponsored by National Review magazine. "I admire her a lot for doing what she did."
Bush credited President Barack Obama for using the riots to point out the "decline of families in urban poor America." He also argued that "failed progressive policies that are at fault" for the troubles in Maryland's queen city. 
In a wide-ranging, 45-minute interview with Rich Lowry, the editor of the conservative magazine, Bush refused to say whether he'd back an amendment from Senator Marco Rubio, a fellow Floridian running for president, that would require Iran to recognize Israel's right to exist as a Jewish state as part of the nuclear deal being finalized.
Bush, who attended a fundraiser for his super-PAC at the Washington offices of Latham & Watkins earlier in the day, also took a pass when asked about Rubio's proposal to replace earned income tax credits with a federal wage enhancements. "The focus ought to be not on targeted elements of the code, but a broader conversation about how we can eliminate as many of these taxes and expenditures as possible and lower the rates as down as possible," Bush said. "That creates economic growth."
Bush, 62, showed some fight on several issues giving him trouble with his party's primary voters. He stood by his support for Common Core academic standards, and said there was no scenario in which he'd sign a pledge from Americans for Tax Reform promising to not raise taxes. Bush added that "no one comes close" to his record of cutting taxes as Florida governor.
"If you've served in the United States Senate over the last eight years, six years, no tax cut has taken place," Bush said, adding that taxes increased $1 trillion to pay for Obamacare. "Anybody associated with Washington, D.C. can talk about this stuff, but places that taxes have been cut are in places like Florida, where they were led by a conservative governor who thought this was important."
He also Lowry that, while he loved the National Review, "I just think you're wrong on immigration."
"I hope we'll have a dialogue about this, but I think I'm right about this: If we're going to grow economically, then we better figure out how to get this fixed pretty quick," Bush said to applause from the audience at The Willard, a hotel about two blocks from the White House.
"I just honestly believe that if we fix the legal part that is not working, we can grow our economy far faster and we'd be younger and more dynamic," Bush said. "The world some argue for is the world of declining population. It's the world of Japan. It's the world of Europe in decline. I reject that."
—Dave Weigel contributed to this report.
Before it's here, it's on the Bloomberg Terminal.
LEARN MORE