Bernie Sanders Sets Sights on White House, and a Democratic Fight
He could force frontrunner Hillary Clinton to reckon more seriously with the left wing of the party.
by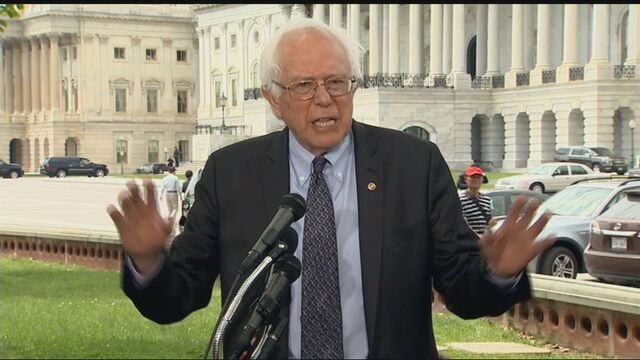 Bernie Sanders, an independent U.S. senator from Vermont, said Wednesday that he will seek the Democratic nomination for president in 2016, setting up a progressive challenge to frontrunner Hillary Clinton.
"People should not underestimate me," Sanders told the Associated Press. "I've run outside of the two-party system, defeating Democrats and Republicans, taking on big-money candidates and, you know, I think the message that has resonated in Vermont is a message that can resonate all over this country."
Sanders, 73, becomes the most high-profile socialist candidate for president since Norman Thomas made six bids last century and could force Clinton to reckon more seriously with the left wing of the party. Clinton, who served as President Barack Obama's top diplomat after losing to him in the 2008 primary, announced her candidacy April 12. 
Sanders is poised to run on the same message that many supporters of Senator Elizabeth Warren hoped she would deliver, and corporations and Wall Street will be his key targets.
At a news conference Thursday in Washington, Sanders vowed to run a clean campaign focused on issues, not gossip. "I've never run a negative ad in my life," he said. "I believe that in a democracy, what elections are about are serious debates over serious issues."
Sanders rejected the notion that he is running to raise awareness for his agenda. Referring to his emphasis on the undue influence of the country's so-called "billionaire class," he said, "That's not raising an issue, that's winning elections."
Also on Bloomberg Politics: The Definitive Bernie Sanders Scouting Report, by Mark Halperin and John Heilemann 
Sanders has funded campaigns throughout his career primarily with small individual donations, and he often bemoans the influence of corporate and Wall Street money in politics. His aversion to big-dollar fundraising raises questions about whether he can collect cash at the level necessary to compete with Clinton.
Sanders' team hopes to raise at least $50 million before primary voting begins early next year to establish that he is a serious candidate, Bloomberg reported in March. He has started hosting $1,000-a-plate fundraisers in cities such as Austin, Chicago, and Los Angeles. Clinton finance director Dennis Cheng has said her campaign aims to raise at least $100 million for the primary, CNN reported in April, citing a person present at the donor briefing where Cheng spoke.
In recent months, Sanders has traveled to early primary and caucus states to promote a 12-point economic agenda, a series of liberal policy goals such as eventually raising the federal minimum wage to $15 an hour and investing in infrastructure, which he argues would create more jobs and bolster the middle class.
Also on Bloomberg Politics: Bernie Sanders Hates Campaign Cash, the Very Thing He'll Need to Beat Hillary Clinton
In addition to questioning Clinton's commitment to taking on that so-called billionaires' class, he has also targeted her on trade. An opponent of the Trans-Pacific Partnership now under negotiation, Sanders said at an April 20 protest that Clinton should clarify whether she sided with "working people" or "corporate America." Clinton, who took part in the Obama administration's early efforts to negotiate the pact as secretary of state, has said as a 2016 candidate, "Any trade deal has to produce jobs and raise wages and increase prosperity and protect our security."
His ideology dates to the 1960s, when the Brooklyn, New York, native moved to Vermont after college ("I had always been captivated by rural life," he told the New York Times in 2007). After four unsuccessful attempts at statewide office as a candidate of the Liberty Union Party, he became mayor of Burlington after beating an incumbent Democrat by 10 votes in 1981. At the time, he was an independent film producer. He went on to serve four two-year terms as mayor of the city before moving to Congress, where he has represented Vermont for 24 years, including 16 in the House and eight in the Senate.
His time in Washington has been characterized by support of ideas that have placed him far to the left of many colleagues, and he has introduced legislation with such descriptive titles as the "Corporate Tax Dodging Prevention Act" and the "Too Big to Fail, Too Big to Exist Act."
Some of Sanders' positions have foreshadowed changes in the Democratic Party. In 1996, Sanders voted against the Defense of Marriage Act, which President Bill Clinton signed to enact a prohibition on federal law recognizing same-sex marriages. The law was struck down by the Supreme Court in 2013. He argues that college should be free, Social Security should be expanded, and health care should be provided under a single-payer system. 
Sanders would next come up for re-election to the Senate in 2018. He had $4.6 million in his Senate campaign account at the end of March, money that can be transferred to a presidential campaign.
In a national poll of Democratic voters taken by Quinnipiac University in Hamden, Connecticut, from April 16-21, Sanders trailed Clinton 8 percent to 60 percent. Other possible contenders likewise lagged behind Clinton. Vice President Joe Biden took 10 percent, former Maryland Governor Martin O'Malley took 3 percent, and former Virginia Senator Jim Webb took 1 percent. The margin of error was plus or minus 4.1 percentage points.
—Bloomberg Government and Greg Giroux contributed to this report.
CORRECTION: An earlier version of this story incorrectly identified the capital of Vermont.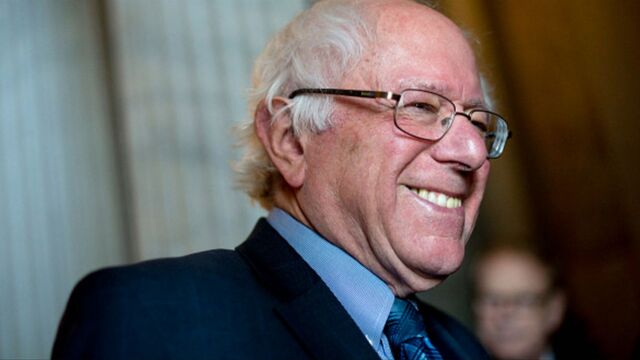 Before it's here, it's on the Bloomberg Terminal.
LEARN MORE