Bernie Sanders: Not Losing His Independence
by and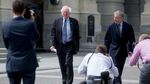 Bernard Sanders may be running for president as a Democrat, but the self-described socialist is keeping his status as an independent in the U.S. Senate, one of his top Democratic aides said.
Sanders, who caucuses with Democrats, waved off questions from reporters about whether he would re-register as a Democrat in his home state of Vermont after he declared his candidacy for the Democratic presidential nomination in Washington Thursday. But Vince Morris, a member of the senator's staff, said that while Sanders will run as Democrat in the presidential primaries, he won't formally join the party. 
Sanders, 73, is one of two independents in the Senate -- both from New England -- who caucus with Democrats. The other is Maine's Angus King.
His entrance into the race had some Democrats on the liberal wing of the party celebrating. But even the frontrunner he is challenging, Hillary Clinton, offered words of praise.
I agree with Bernie. Focus must be on helping America's middle class. GOP would hold them back. I welcome him to the race. –H

— Hillary Clinton (@HillaryClinton) April 30, 2015
The quirky Vermont senator's reluctance to give up his political independence could cause problems in at least one early primary state, according to a report by CNN that quoted long-time New Hampshire Secretary of State William Gardner as saying he's not sure Sanders will quality for a spot on the ballot in the nation's first presidential primary.
Thanks @HillaryClinton. Looking forward to debating the big issues: income inequality, climate change & getting big money out of politics.

— Bernie Sanders (@BernieSanders) April 30, 2015
"We have only two legal parties in New Hampshire," CNN quoted Gardner as saying. "The primary is reserved for those legal parties." Rick Hasen, an election law expert at the University of California Irvine, said that could be a real difficulty for Sanders. "Doesn't mean he wouldn't win, but there could be a fight," Hasen wrote in an email. 
No such difficulties loom in Iowa, where the first ballots of the 2016 race will be cast in party caucuses. "The Democratic party "has always welcomed potential candidates for our party's presidential nomination with open arms," said a former party official, Christina Freundlich. She noted that there is no ballot for the Democratic caucus: names are simply placed into nomination at individual caucuses the night that party members gather. 
 The Progressive Change Campaign Committee welcomed Sanders's entrance into the race to challenge former Secretary of State Hillary Clinton, who is widely viewed as the Democratic front-runner. Sanders "has been a vibrant progressive voice for years,'' said Adam Green, co-founder of the Progressive Change Campaign Committee. He said Sanders will "ensure that the election is fought over big, bold, economic populist ideas like expanding Social Security benefits, a national goal of debt-free college, Wall Street reform, public financing of campaigns, and creating millions of clean-energy jobs." 
The group has recruited primary challengers to Democrats in congressional contests and has more recently tried to draft Massachusetts Senator Elizabeth Warren to run against Clinton. 
Erica Sagrans, campaign manager for Ready for Warren, which is urging Warren to run for president, said in a statement the group is "excited'' that Sanders entered the race, though its members are still trying to persuade Warren to run.
Before it's here, it's on the Bloomberg Terminal.
LEARN MORE