Bernie Sanders's Entry: Unorthodox and Potent
Analyzing the style, substance, and impact of the Vermont senator's presidential announcement news conference.
by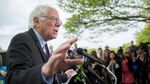 Style: Used a short statement and brief media Q&A to compelling effect. More pleasingly confident than usual. Notably commanding, with gravitas. Spoke in a more conversational and idiomatic manner than he typically does.
Substance: The absence of a formal announcement speech and relative brevity of the event made detailed proposals less likely, but, as he almost always does, the senator made the priorities of a President Sanders clear: passing campaign finance reform, stopping climate change, opposing trade deals, and limiting the power of corporations.

Best moment: A direct plea to the media to focus on substance, not political drama. "I believe that in a democracy, what elections are about are serious debates over serious issues, not political gossip, not making campaigns into soap operas."
Worst moment: One of his strongest political performances in recent memory; no bad moment stood out.
Overall: Not quite Hillary Clinton's worst nightmare, but Sanders painted a picture of a candidacy that could bedevil her well into 2016. With apparent reluctance, he raised her support for George W. Bush's Iraq war as one of the chief points of contrast between them (while taking a pass–for now–on direct criticism on the actions of the Clinton Foundation). If he can add two more dashes of happy to his pro-middle class warrior image, raise buckets of the small campaign contributions for which he made a direct appeal, and juice his poll numbers with time on the ground in Iowa and New Hampshire, he could emerge as the biggest Democratic thorn in Clinton's side. The manner in which he made his presidential announcement was as unorthodox as his political resume, but the overall effect was potent.
Before it's here, it's on the Bloomberg Terminal.
LEARN MORE