Rand Paul: On Criminal Justice, Hillary Is 'Trying to Undo Some of the Harm Inflicted' by Her Husband
The senator versus the secretary.
by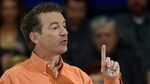 On Tuesday morning, Kentucky Senator Rand Paul responded to the civil unrest in Baltimore by telling a conservative radio host that "the breakdown of the family" had led to urban crises. It was a rather muted reaction from a senator who has put in many hours collaborating with Democrats and talking to activists about criminal justice reform. And within a day, Democratic presidential frontrunner Hillary Clinton was giving a speech that threatened to steal Paul's thunder.
This afternoon, Paul's campaign responded with an extensive rundown of the senator's criminal justice bills, and a capsule history of the Clinton administration's justice record.
"Earlier today, Hillary Clinton proposed various criminal justice reform ideas in an attempt to undo some of Bill Clinton's work—the same work she cheerfully supported as First Lady," said the campaign, in an unsigned release. "Not only is Hillary Clinton trying to undo some of the harm inflicted by the Clinton administration, she is now emulating proposals introduced by Senator Rand Paul over the last several years, and we welcome her to the fight."
Before it's here, it's on the Bloomberg Terminal.
LEARN MORE