Baltimore Unrest Subsides as Police Seek to Disperse Angry Crowd
William Selway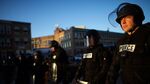 Unrest in Baltimore subsided as National Guard troops and police flooded the streets to enforce a curfew, preventing a second night of looting and violence.
As the 10 p.m. curfew took effect Tuesday, police in riot gear used pepper spray to disperse dozens of people on North Avenue. Some in the crowd hurled rocks and other items at officers. Elsewhere, streets were largely empty.
"The curfew is, in fact, working," Baltimore police Commissioner Anthony Batts said at a news conference. "Citizens are safe. The city is stable. We hope to maintain it that way."
The relative calm came after rioters burned cars, clashed with officers and looted businesses Monday following the funeral for a black man who died in police custody. The strife follows unrest in other U.S. cities, such as Ferguson, Missouri, amid anger over the deaths of black men in encounters with law enforcement.
In Baltimore, at least 20 officers were injured and 235 people were arrested in the violence that followed Monday's funeral of Freddie Gray, 25, who died on April 19 after suffering spinal-cord injuries while in police custody.
Maryland Governor Larry Hogan called in the National Guard to restore order.
Soon after people were ordered off the streets Tuesday night, white gas could be seen rising from the intersection of North and Pennsylvania avenues after police fired balls of pepper spray into the crowd. Baltimore police described the group as "aggressive and disorderly" in a Twitter message. About 10 people were arrested after the curfew took effect, according to Batts, who didn't describe the charges.
Festive Mood
Earlier in the evening, the mood at the intersection was more festive. High school cheerleaders danced in formation.
Chris Jenkins, a 32-year-old banker, stopped to take a photo and thank young people for coming out peacefully.
"We want justice in the long term," said Jenkins. "That's going to mean some recognition of the issues at hand about the police."
The unrest started Monday, when high school students gathered at the city's Mondawmin Mall and threw concrete blocks and rocks at officers, Batts said.
Television images showed looting at a check-cashing business and the destruction of a police vehicle in the city, which is about 40 miles (64 kilometers) northeast of Washington. During the ensuing turmoil, some 144 vehicles were burned.
'Rough Period'
The overnight peace came after residents spent Tuesday cleaning up areas battered by the riots and participating in civil demonstrations. Schools are set to reopen Wednesday.
"We saw people coming together to reclaim our city, to clean our city and to help heal our city," Mayor Stephanie Rawlings-Blake told reporters on Tuesday. "This can be our defining moment, and not the darkest days that we saw yesterday."
Baltimore ordered a citywide curfew from 10 p.m. and 5 a.m. Rawlings-Blake said the restrictions would last for at least a week.
Andre Brown, a 35-year-old who grew up in subsidized housing in west Baltimore, said the unrest reflects the hopelessness felt by young black men who see little way of escaping from the poverty.
"They don't see any future," he said. "There's no hope in the neighborhoods."
President Barack Obama denounced the violence while saying police departments must rebuild trust in their communities. He said what happened in Baltimore wasn't a protest.
"When individuals get crowbars and start prying open doors to loot, they're not protesting, they're not making a statement," Obama said at a White House news conference Tuesday. "They're stealing."
Obama Inquiry
The Justice Department has opened a preliminary civil-rights inquiry into Gray's death, as the Obama administration scrutinizes law-enforcement practices nationwide.
Last month, the Justice Department criticized the civil-rights record of police in Ferguson after the fatal shooting of an unarmed black teenager by an officer in the St. Louis suburb.
Michael Brown's shooting on Aug. 9 and several other incidents across the U.S., including the death of an unarmed black man who was placed in a chokehold by a white New York City police officer, sparked widespread protests.
Six Baltimore police officers have been suspended as authorities investigate the circumstances of Gray's arrest and whether criminal charges are warranted.
Before it's here, it's on the Bloomberg Terminal.
LEARN MORE