Martin O'Malley, Baltimore's Prodigal Mayor, Gets to Work
The mayor who had brought New York-style "zero tolerance" policing to Baltimore has to confront critics, long after he is in a position to change.
by and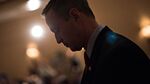 "Fresh kale!" says Martin O'Malley. "Fresh kale! Get some fresh kale. I cut it myself."
The former mayor of Baltimore, former governor of Maryland, and likely candidate for the Democratic Party's next presidential nomination, was standing at the end of a food giveaway at the St. Peter Claver parish hall in northwest Baltimore's Sandtown neighborhood on Wednesday. He had arrived around 1 p.m., clad in white shirt, suit pants, and tucked-in tie.
And, yes, he'd been lifting pallets of food and water, and pulling the official leafy green of yuppiedom into plastic bags. That way, they could be collected by people whose local Save-A-Lot and CVS has been looted in the riots that followed the death of 25-year old Freddie Gray in police custody. He'd dug into the job, pausing occasionally to note the Irish-American history of the city, or the fact that as governor he'd plussed up the funding of the Maryland Food Bank, or that he knew a great recipe for vegetables.
"Just cut it up," he told one skeptic, as she added the vegetables to her armfuls of groceries. "Onion, kale, potatoes. Cut it up with a little butter—mmm, mmm."
The last few days had been difficult for Baltimore, and difficult in another way for O'Malley. He lived in Baltimore. He started his political career in 1991, at age 28, on Baltimore's city council. Twenty-two years later, when he relaunched his political PAC for, probably, a White House bid, it was with a short documentary about how he turned Baltimore around. It was an uncontested, uncontroversial résumé highlight, something that allowed O'Malley to move on to current topics and challenge Hillary Clinton from the economic left.
On Tuesday and Wednesday, he looked like a mayor again, albeit one whose entourage had been reduced to fit one SUV. That was a necessity. The mayor who had brought New York-style "zero tolerance" policing to Baltimore had to confront critics, long after he was in a position to change. On both days, during a walk through the Freddie Gray protests and during his visit to the food giveaway, O'Malley said he had been "promoted to citizen."
He usually did so when people shared a specific worry about a missing city service, and he assured them that he would talk to the current governor and mayor—that he had already, in fact. "I live in the city. I'm a resident of the city. I've spent my entire life trying to make the city a more safe and a more just place."
Tuesday's visit had been bedeviled by reporters who materialized to capture every jeer and heckle from protesters who blamed him for the city's policing strategy. Wednesday's event was more peaceful. O'Malley joined a prayer circle for volunteers, led by 29-year old Greer Dorsey and 30-year old Cavette Buford. Dorsey led the prayer after confessing that a younger O'Malley had visited her school.
"I thought—boy, he's cute!" she said.
Buford, who wore a shirt that read "Currently Protesting Something," had held O'Malley's hand during the prayer. "I don't doubt that he has a good heart," she said, "but because of his former dealings with the city of Baltimore and the state of Maryland, some of the things that he has implemented—what you see in the community is from his zero tolerance policy. If he's down here, trying to be serious, I want to see him be in the community, because people are hurting."

Some longtime critics of O'Malley's policies—from local activists, former police officers, and Baltimore Sun reporter turned The Wire creator David Simon—are using the riots to make their case on a national stage. During O'Malley's campaign for mayor critics said the zero-tolerance policing tactics he was proposing—wherein police enforce minor crimes to prevent repeat offenders—would lead to more cases of police brutality. O'Malley argued that while brutality is a problem in every police department, he would have "zero tolerance for police misconduct" as well.
Stephen Kearney, who worked as O'Malley's director of policy and communications, said in an interview that while several factors contributed to a drop Baltimore's drop in crime "government has a responsibility to make a difference where it can, and during [O'Malley's] administration that included better policing, but also policing the police, increasing drug treatment, and making sure there's better opportunity for kids. And all those factors worked together in Baltimore's crime reduction."
"There was a great demand in Baltimore in 1999 to do something about conditions that people did not want to live with and could not live with," Kearney said. "At the time there was an increase in arrests in Baltimore and many other cities as police and communities tackled these problems. And as violent crime was reduced arrests also declined."
Critics have argued that the city's drop in violent crime was part of a nationwide trend, and instead O'Malley's policies led to an increase in unlawful arrests.
In 2006 the Maryland branch of the ACLU and the NAACP sued the Baltimore Police Department for allegedly arresting thousands of citizens without probable cause. According to the suit, nearly 30 percent of individuals arrested without warrants in 2005 weren't prosecuted. That year, there were more than 100,000 arrests in a city of 640,000. In 2010 the city settled for $870,000 and the police department committed to a series of reforms.

O'Malley told The Baltimore Sun that he didn't see the settlement as a rebuke of his policies, but a sign that the city solicitor's office decided it would be better to settle than go to trial. He added that his administration worked to retrain officers.
"In fact, there were many instances where you saw our administration at the time through the [police] commissioner's office retrain and correct those incidences where there would have been or there was overzealousness," he said. 
David Rocah, a senior staff attorney with ACLU Maryland who worked on the lawsuit, said that O'Malley's data driven approach contributed to pressure to increase arrests. "CompStat was a reflection of an overreliance on statistics to the exclusion of all else, which helped drive the problem that we were seeking to redress," he said, later adding, "I don't lay the entirety of the blame on Marin O'Malley, but if we talk about Martin O'Malley's legacy, what's happening today is for sure a part of it."
Marc Schindler, the executive director of the Justice Policy Institute, a non-profit that works on justice reform and reducing incarcerations argued that while the problems between the community and the police goes back decades, "I think there is fair criticism that during then-Mayor O'Malley's time in office here in Baltimore that the approach didn't help things and in some respects probably made the situation worse."
In February the organization released a report that found that in Gray's neighborhood—Sandtown-Winchester/Harlem Park—a third of homes are abandoned, unemployment is high and the state pays nearly $17 million a year incarcerating three percent of the population.
"What these communities so absolutely need is the same types of things that we all need, which is opportunities for a decent job, a decent place to live, and a decent education in order to get a decent job and a decent place to live," Schindler said.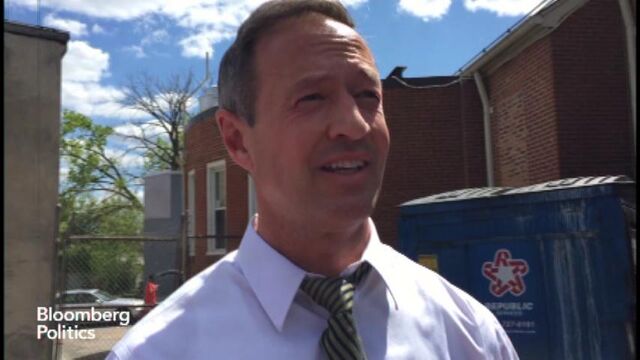 Those criticisms have swirled around O'Malley for years. A hard look at his mayoralty was probably inevitable, if and when he started to gain ground in the Democratic primary. The shock of the riots had forced him to defend his record earlier than expected.
By Wednesday, he was girded for it. At the parish, when asked to respond to the charge that "zero tolerance" policing led to the riots, O'Malley offered a lengthy answer about how the police needed "better understanding, better ways to make their departments more open and transparent" but that zero tolerance had worked.
"Our city has, for the last 15 years, been pushing back and driving down violent crime," said O'Malley. "Every mayor, in his or her time, does their very best to get the balance right. To save as many lives as possible, as quickly as possible. That's what we did in our time, and that's what I believe every mayor has tried to do since. In the history of race in America, there's not a single day when you have to be mindful of the constant need for improvement and rebuilding of trust. Really, no people can sustain the kind of crime reduction we've seen unless there's trust between police and neighbors."
That was not a walk-back of his policies in the 1990s and 2000s. But did the turmoil of the past week change the way he thought about 2016? Did it lessen his credibility in any way?
It had not and did not.
"Let me answer that this way," said O'Malley. "I was motivated to go into public life because of the great chasm that exists between justice and injustice in our country. Nowhere is that divide greater than in America's cities. Some people might look at Baltimore, from afar, and see nothing but hopelessness. I see, in Baltimore, tremendously good and compassionate people, and a tremendous opportunity to save a lot a lives. And that's what we've done. If you look at violent crime in Baltimore as compared to where violent crime was in the decades before, it's hard to conclude anything other than that. Hundreds and hundreds would have died violent deaths."
O'Malley had been saying this for a while, when the critics held smaller megaphones. Just two weeks earlier, he'd given a speech to Al Sharpton's National Action Network, in which he said that "there are a thousand fewer black men in Baltimore today who died violent deaths over the last 15 years who otherwise would have died" without the policing reforms he'd championed. He recalled how after his 1999 mayoral win, he'd told police that their best allies on the blocks they covered were "the good people that live on that block." He called for body cameras on police officers.
On Tuesday, after some tough, emotional interactions with his former constituents, O'Malley only sounded put out when a reporter asked if he'd read Hillary Clinton's speech about criminal justice reform. He had not. He had shared his own reform ideas many times, most recently in that speech to the National Action Network.
"Maybe you can share it with our intrepid reporters here," said the citizen of Baltimore.
Before it's here, it's on the Bloomberg Terminal.
LEARN MORE