Jeb Bush Speaks to Hispanic Evangelicals About Faith, Family, and Political Failure
With his parents looking on, the likely candidate seeks common ground.
by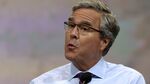 HOUSTON — Standing in front of his father, mother, and more than 1,000 Hispanic evangelicals, probable Republican presidential candidate Jeb Bush spoke Wednesday about his multi-ethnic family, the political failure that led him to the Catholic Church, and the academic success of Florida's Latino students.
Bush called immigration a "key element of our country's success," and repeated his call for laws to provide an "earned legal status" for many of the nation's 11 million undocumented immigrants. "We are a nation of immigrants," the former Florida governor said at the annual meeting of the National Hispanic Christian Leadership Conference. "This is not the time to abandon something that makes us special and unique."
Bush, 62, is staking out ground in the Republican presidential race as a pro-immigration candidate, an unlikely calling card within a party whose leaders in the U.S. House rejected a bipartisan immigration bill last year, and instead voted to remove deportation protections for children brought to the U.S. by their parents.
While Bush's position carries risks in a Republican primary, it may also help lure Hispanic voters to the party. Supporters swarmed Bush during a campaign stop in Puerto Rico on Tuesday. His support for immigration changes received applause from the Houston crowd on Wednesday, although the biggest roar came after Bush's call to strengthen U.S.-Israel relations.
Moving between Spanish and English, Bush framed his immigration position in global terms on Wednesday, saying that "only America, a country of scale, has the chance to become young and dynamic again."
Bush highlighted his own bilingual family, saying his 5-foot tall Mexican wife, Columba, rejected him when they met by telling the 6-foot, 4-inch Bush, "You're too tall." He also received laughs and applause when he told the audience the nickname for his grandson, Prescott: Little P in English, and Chicharito (Little Pea) in Spanish.
While Bush used his own family to help him connect with Wednesday's audience, his name has become a political liability. Polls show voters are reluctant about electing a third Bush president. Still, that didn't keep his parents, President George H.W. Bush and former First Lady Barbara Bush, from attending the speech.
In a brief interview before the speech, Bush said having his parents in the audience always makes him nervous. From the stage, he joked that his mother would critique his performance afterwards. "If God could give me one blessing it would be to have every child have the blessing of love that I got from my mom and my dad," he said.
Bush credited his wife for bringing him to the Catholic faith, and said he decided to convert after losing the 1994 governor's race in Florida. "I love the blessed sacraments, I love the simplicity of the church that I believe in," Bush said. "There's no more powerful or liberating influence on this earth than the Christian conscience in action."
Calling that 1994 defeat "one of the best experiences of my life," Bush also spoke about his decision following that election to focus on education policy and visit 250 Florida schools. He said he was inspired to push for higher academic standards after watching an eighth-grader fail to answer a fsubtraction question: How long was a baseball game that started at 3 p.m. and ended at 4:30 p.m.?
"Watching the tragedy unfold with this child from Central Florida made me more committed to change our education system than anything else," Bush said.
Bush, who is facing criticism among Republican voters for his support of Common Core academic standards, said his push in Florida to evaluate schools, eliminate teacher tenure, and expand school choice have helped close achievement gaps for the state's Hispanic students. He said that Florida's Hispanic students outpaced the statewide average for all students in 34 states on a recent National Assessment of Educational Progress (NAEP) test. He said that Hispanic students account for about 25 percent of university enrollment in Florida, and graduation is nearly on par with white students. 
"You can move the needle—you can change the lives of thousands and thousands of families if you have the courage to have school choice, robust accountability, higher standards and focus on early childhood literacy," Bush said. "Don't believe that this is an impossible task."
Before it's here, it's on the Bloomberg Terminal.
LEARN MORE