Jeb Bush Sparks Passion in Puerto Rico
The former Florida governor campaigns in the Commonwealth.
undefined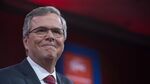 By Alexander Lopez 
A meeting room inside an athletic complex in Bayamon, Puerto Rico, was packed with 500 supporters of Jeb Bush an hour before the former Florida governor even arrived on Tuesday. After concluding a short speech, he was swarmed for an hour by an audience in search of handshakes, and cell-phone selfies.
It was the kind of excitement that Bush, a probable presidential candidate, hasn't quite generated yet back in the states with the earliest nominating contests, where polls show the son of one former president and brother to another is locked in a battle with a slew of Republican contenders.
"I love campaigning in Puerto Rico, because of the passion people have for politics on this island," Bush said earlier in the day in San Juan, speaking to about 150 people at Universidad Metropolitana.
Bush's visit to the commonwealth has mostly symbolic value. The Republican primary contest here in March is almost inconsequential in the nomination battle, but Bush is staking out ground as a pro-immigration candidate, an issue that is a top concern for many Hispanic voters.
"Although there are Hispanic Republican candidates in the primary race, I believe Jeb Bush has an excellent opportunity to attract the support of Hispanic voters to his campaign," said Angel Toro, a former government official of Puerto Rico's last Governor, Luis Fortuño, who is a prominent member in the Hispanic Republican community.  
Bush also attended a fundraiser on Tuesday with former Puerto Rico Govvernor Luis Fortuño, a Republican, who, like Bush, backs statehood for the U.S. commonwealth.
Bush first campaigned in Puerto Rico as a 24-year-old with his wife and children during the 1980 Republican primary race for his father, George H.W. Bush. During his three month stay on the island, Bush said he visited the pro-statehood campaign headquarters of virtually every one of the 78 counties and municipalities on the island.
He said he has since visited the island on numerous occasions and countered Hillary Clinton's assertion that she was the presidential candidate who has spent the most time on the island; Clinton won Puerto Rico's Democratic primary in 2012.
"Politics is a contact sport in Puerto Rico and the key take away from my experience in my father's campaign is the importance of organization at the grass roots level," Bush said.
During his speech at Universidad Metropolitana, Bush highlighted the bi-cultural nature of his family, which he said closely reflects the lives of many Americans today. "I believe the official languages of Puerto Rico should be English and Spanish," he said. 
Bush's remarks focused on economic development, both local and in the U.S. mainland and heralded former Puerto Rico Governor's Fortuño's accomplishments in the Public Private Partnership Infrastructure projects during his administration. Bush later stated that during his time in Puerto Rico, "I've learned to drink a lot of Puerto Rican rum," which brought much laughter from the audience. 
Before it's here, it's on the Bloomberg Terminal.
LEARN MORE