Baltimore Tries to Move On: 'I Live in This Neighborhood'
The tense but quiet first night of Baltimore's curfew.
by
BALTIMORE—An unpredictable, ad hoc collaboration between gang members and police officers tamped down civil unrest in the place where protesters had gathered to mourn the late Freddie Gray. By midnight, two hours after the start of a controversial curfew, a city that had seen days of brawls, looting and possible arson was so quiet that an international swarm of reporters stood aimlessly as armored squads moved slowly to clear a few restive blocks.
"It is clear, in fact, that the curfew is working," said a solemn but triumphant Commissioner Anthony Batts at a pre-midnight press conference.
There had been no guarantee of success. All day, there had been cautious optimism that city residents wanted move on past the riots of Saturday and Monday. The torched or looted parts of the city—the parts that had become the most infamous thanks to media, social and otherwise—drew not just reporters, but volunteers, who cleaned up the blight. On a drive through the city, it was common to see one a storefront being repainted, or a new door being put in place, by people who wanted to move on quickly. Many bemoaned the shuttered city, where many businesses remained closed all day and others closed early.  
That constructive spirit was haunted by a darker one.
"I was supposed to have a job interview today," grumbled Kevin Watkins, as he talked with friends near the husk of what was supposed to be an east Baltimore senior center. But he epitomized the mixed emotions roiling Charm City. "If they don't charge those police in the Freddie Gray case by Friday this city is going to have the worst riot in history," Watkins added.
That pessimism was of a piece with the fitful optimism. If the city is to get back to discussing the police, it has to get past the riots. The unrest overwhelmed every other story. Human interest stories about unfair arrests had to make room for human interest stories about businessman girding against looters. The work of the Baltimore Sun, which earlier had done an extensive exposé on the damages police were forced to pay citizens who had been victims of brutality, was similarly overwhelmed by reporters from Swiss and French and Chinese TV stations, shoving cameras into tense scenes. And more than one protester worried that violence would give the city, the state, the national guard an excuse to hurt people.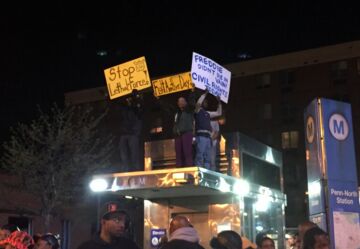 Most Baltimoreans worked to prevent that. The police presence around North Avenue and Pennsylvania Avenue effectively shut down the area that had seen Monday's worst violence. By Tuesday afternoon, burnt cars had been removed, and the streets hosted an ever-changing block party. An SUV cracked its trunk to blast music for rollerskaters. The CVS that burned on Monday had already been condemned, yet revelers occasionally walked into it, taking ghostly photos, one of them posting a sign: "The police made this happen, not us." Blue-shirted pastors from the Billy Graham Rapid Response Team prayed with anyone who said yes; so did Pastor William Devlin, who'd traveled from New York City to pray with gang members.
"We've offered to pray with 300 people, at least, and no one has said no," Devlin said proudly as the sun set. "Not even if they were drunk, not even if they were smoking something."
As 10 p.m. approached, the party atmosphere gave way to a familiar tension. The line of police on North Avenue, backed by armored cars, had not moved an inch all day. From time to time a reveler would approach the cops and hurl a taunt.
"Get them six officers off the streets!"
"Stop the murders!"
One bystander, a former karate teacher, recalled how he moved a protester back after he yelled that the officers were sloppy rejects from the FBI. 
By nightfall, however, there was a line of defense in front of the line of police. Gang members wearing their colors had assembled in a row, blocking anyone from getting closer than within four feet of a riot shield. When anyone acted up, he or she was pushed back, often with din but never with violence. Occasionally, one of the ad hoc leaders of the defense line would swap out and talk to reporters about what they were trying to do.
"I don't sugarcoat sh-t," said Yusha Hasim Al-Fahd, a Muslim who wore a robe and head wrap as he pushed back crowds. "I'm not an upstanding citizen. I'm the evil that goes bump in the night in this city. Whoever don't know my name know my face. But goddamn, can we at least get due process? Send me to jail for life, if I'm a criminal. I don't want anyone to get hurt tonight."
According to Al-Fahd, the gang members wanted to help the police by showing them up. If they could prevent violence, totally, they would make the police presence useless—they would prove that black Baltimore could police itself. For a while, that looked to be happening. At 9 p.m., the gang members and others who had joined the defense line formed a chain and slowly walked down North Avenue, clearing a space that, for a minute, only photographers jumped back into. Catherine Pugh, the Democratic majority leader of Maryland's state Senate, walked through the lines and over to a police bullhorn.
"Let's take our babies home," she told the crowds. "I want to thank the mayor of Baltimore and the men and women who showed the world what kind of city we have. And I want to thank you for understanding we're going to bring the peace. We're going to bring the economic development that this city needs. We showed America we can police ourselves."
Pugh waded back into the diminishing crowd, and explained that enough Baltimoreans remembered the damage of previous riots to want prevent more. "We've got areas that were devastated in 1968 that still haven't come back," she said. "Many people in the city are frustrated because they walk out of their homes and still see buildings that are abandoned."
Yet 9:30 came, then 9:45, and the road was not cleared. As many as 200 people, and perhaps 100 reporters, remained in the area, giving space but not quiet to the line of police. A hurled water bottle could spark 10 seconds of pushing, brawling, and running. A media scrum around an organizer became magnetized, pulling in spectators with hoisted smartphones, just as gang members were trying to push the crowd away. Fox News's Geraldo Rivera got some of the worst of this, constantly relocating as dozens of people surrounded him and yelled for his network to leave. "You're gonna go back to white suburban America and forget about this!" yelled one man.
The tone started to change when Elijah Cummings, the congressman for most of black Baltimore, arrived and slowly moved toward the police megaphone. The veteran Democrat was swarmed by reporters and by protesters who wanted to be convinced to leave. "If you say everybody disperse, we disperse," said one of them. "But at the end of the day, they tryin' to shoot us at 10 o'clock."
By the time Cummings reached the megaphone, the crowd was indeed thinning, from hundreds to around 100 people.
"There's nothing wrong with peaceful protest, and we want to maintain peace," said Cummings. "I live in this neighborhood. I'm with you. We hear you. And I'm asking you, I'm begging you, to please turn around and go home. Please turn to your neighbor and say, let's go home."
The congressman waded back through the crowd, after 10 p.m., ahead of whatever the police would do. "By being out here, are you slowing up the police from doing their job?" asked Fox News reporter Mike Tobin.
"No," said Cummings. "This is my neighborhood. I live five blocks away from here."
It was around this time that police suddenly moved forward and banged their shields. That sent dozens of protesters scrambling and running. There were agitators in the crowd, but they were not organized. Ten minutes after the curfew, when the police really started to move, the most threatening act of the agitators was to toss a firework toward the cops, which fell short and whizzed around the pavement.
It was enough to set off a short panic. "They got an excuse to kill you now!" yelled Al-Fahd, moving slowly through a plume of smoke. "Somebody's kid ain't coming home tonight!"
The police fired pepper balls into crowds that were running down North Avenue and down Pennsylvania Avenue toward a church. The wind blew most of the sudden, stinging smoke down Pennsylvania Avenue. A cyclist who had been circling the protest was hit in the abdomen by a canister. Another canister sparked a paper bag that had been dumped next to a trash can at Pratt Library. Hasty, errant media reports credited the fire to a Molotov cocktail; anyone who could see through the smoke could watch a man with a black mask easily stomping and dousing the flames before running back down the street.
By 10:25 p.m., the armored riot vehicles that had been idling before the curfew were rolling down streets, instructing both protesters and journalists to go home. Around the main scene of protest, the only new property damage came to garbage cans that had been hurled and broken on the ground. Cars were undamaged; windows were intact. Some hardened reporters who'd come with gas mask and helmets were left with little chaos to record.
That seemed to be the point of the 11:45 p.m. police press conference. Since the curfew started, with countless cameras rolling, there had been only 10 arrests. Two of the arrests were for looting, one for disorderly conduct, and seven for curfew violation.
Those who live in the neighborhood had for one night at least, taken it back.
Before it's here, it's on the Bloomberg Terminal.
LEARN MORE