Trumka Outlines Labor Wish List for Presidential Candidates
Mark Niquette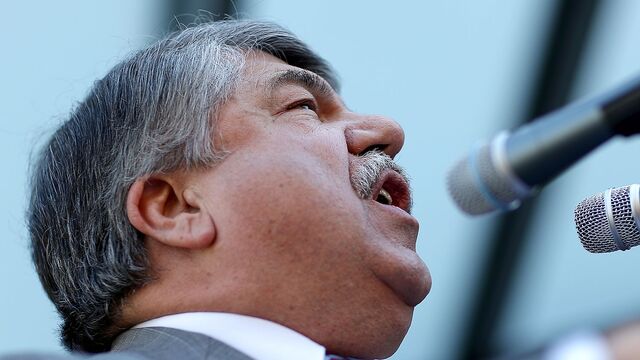 The head of the largest U.S. federation of unions called on Democratic and Republican presidential hopefuls to address wage inequality and globalization, and said members will back the candidate who "can and will deliver."
"A surging army of workers and activists and families are tired of taking 'maybe' for an answer," AFL-CIO President Richard Trumka said Tuesday in a speech at his Washington headquarters. "We're tired of scared politicians who won't stand up for what's right."
The speech, meant to "lay out the standard working people will use to evaluate 2016 presidential candidates," was seen as an attempt to nudge Hillary Clinton, the leading Democratic candidate, and other entrants to adopt more than "relentlessly cautious half-measures."
Trumka highlighted the opposition of the 12.5 million-member AFL-CIO to giving the Obama administration so-called fast-track ability to negotiate deals such as the 12-nation Trans-Pacific Partnership. Labor officials say workers have lost jobs due to previous trade agreements.
He spoke on the day that Japanese Prime Minister Shinzo Abe is visiting the White House to discuss the Trans-Pacific Partnership negotiations.
Trumka said union members are skeptical and that about one-third of working-class voters said after the last election that they saw no significant difference between the two parties on raising wages, protecting Social Security and Medicare, and siding with corporations over "average folks."
The U.S. wealth gap in 2013 widened to the most in 30 years, according to a Pew Research Center analysis released in December. The median wealth of upper-income families of $639,400 was almost seven times the $96,500 of middle-income families.
"Workers don't want poll-driven messages," Trumka said. "They want to be convinced that the candidate has an agenda for raising wages and will fight, will fight to make that agenda a reality."
Clinton, the former secretary of state and leading contender for the Democratic presidential nomination in 2016, has declined to take a position on the trade deal or on legislation before Congress to grant Obama fast-track authority for it.
Trumka's address was an attempt to influence her and other prospective Democratic candidates, said Gary Chaison, a professor of industrial relations at Clark University in Worcester, Massachusetts.
Clinton can be expected to discuss wage inequality, though it's unclear whether that's motivated by a desire to secure union support or simply an acknowledgment of progressive voices in the party such as Massachusetts Senator Elizabeth Warren, Chaison said.
New York Mayor Bill de Blasio, who managed Clinton's successful 2000 bid to become a U.S. senator from New York, also has declined to make an immediate endorsement of her candidacy.
De Blasio has been traveling to other states pushing for an increase in the minimum wage and wants to convene a forum on income inequality with 2016 candidates. He said in Milwaukee on April 25 that Clinton needs to articulate a "tangible vision of economic change."
"Secretary Clinton has not been as historically populist as today's times seem to call for in the Democratic Party," said Andy Stern, former president of the Service Employees International Union and a senior fellow at Columbia University. "People are trying to see whether that as a 2016 candidate, she draws some clear lines on trade, tax policy and inequality."
Before it's here, it's on the Bloomberg Terminal.
LEARN MORE