Kennedy Sends Mixed Signals as Supreme Court Debates Gay Marriage
Greg Stohr, Mark Drajem and David McLaughlin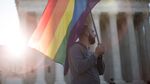 A pivotal justice sent mixed signals as the U.S. Supreme Court divided along ideological lines during arguments in a historic case that could legalize gay weddings nationwide.
Justice Anthony Kennedy said same-sex couples were seeking the same "dignity" and "ennoblement" as heterosexual couples. Yet earlier in Tuesday's argument, he offered a glimmer of hope to people who say marriage should be defined as between a man and a woman.
"This definition has been with us for millennia," Kennedy said. "And it's very difficult for the Supreme Court to say, 'Oh, well, we know better.'"
Kennedy would be a critical vote for marriage advocates, and his questioning suggested he is still working through tough issues. He wrote all three of the court's rulings expanding gay rights over the last two decades, including the 5-4 decision two years ago that required the federal government to recognize same-sex marriages.
A decision backing gay marriage would be the culmination of a decades-long movement that has rapidly gained momentum in the past dozen years. The number of states where gays can legally wed has tripled in two years to 36, and advocates want the high court to extend that to the remaining 14 states. Polls show record support among Americans for gay marriage.
Chief Justice
Chief Justice John Roberts directed the bulk of his questions at same-sex marriage proponents during the argument. Although Roberts voted against gay rights two years ago, marriage advocates hold out hope of winning his vote this time.
"If you prevail here, there will be no more debate," Roberts told Mary Bonauto, the lead lawyer arguing in favor of same-sex marriage rights. "Closing off debate can close minds, and it will have a consequence on how this new institution is accepted. People feel very differently about something if they have a chance to vote on it."
Roberts also said the "fundamental core of the institution is the opposite-sex relationship."
The chief justice shifted course later, hinting that he might be open to joining an opinion that didn't focus on sexual orientation and instead struck down gay-marriage bans as unconstitutional gender discrimination.
"If Sue loves Joe and Tom loves Joe, Sue can marry him and Tom can't," Roberts said. "Why isn't that a straightforward question of sexual discrimination?"
Obama's Lawyer
Donald Verrilli, the Obama administration's solicitor general, said the Constitution's equal-protection guarantee should apply, giving gay couples access to the institution.
Gay-marriage opponents are saying "that with regard to marriage they are not ready yet," Verrilli said. "Gay and lesbian people are equal, they deserve equal protection of the law and they deserve it now."
As Verrilli rose to speak, a protester interrupted the proceedings, shouting that supporters of gay marriage will "burn in hell." Police officers dragged the man from the courtroom.
The lead lawyer arguing against gay-marriage rights, former Michigan Solicitor General John Bursch, said the case wasn't about how to define marriage. "It's about who decides that question," he said.
He drew challenges from the court's four Democratic appointees. Each pushed back when Bursch argued that the states' marriage laws were designed to connect children to their parents.
What Harm?
"It's hard to see how permitting same-sex marriage discourages people from being bonded with their biological children," Justice Elena Kagan said. Justice Stephen Breyer made similar points.
Kagan also said that, under Bursch's reasoning, a state could ask couples seeking to marry whether they intend to have children. Justice Ruth Bader Ginsburg followed up by asking whether two 70-year-olds could be denied a marriage license.
"You don't have to ask them any questions," Ginsburg said. "You know they are not going to have any children."
Justice Sonia Sotomayor asked what harm would come to opposite-sex couples if gay people could marry as well.
"We're not taking anybody's liberty away," she said.
Justice Antonin Scalia, a Republican appointee, said a ruling that same-sex couples have a constitutional right to marry would be "unpalatable to many of our citizens for religious reasons."
State Authorization
He suggested that ministers may be forced to perform same-sex weddings to keep their state authorization to conduct marriage ceremonies.
Justice Samuel Alito asked whether states would have to sanction marriages between siblings or among a group of four people if it extended marriage to same-sex couples.
"What would be the logic of denying them the same right?" he asked.
Kennedy invoked a key word he used in 2013, when he wrote that the Defense of Marriage Act, a federal law that defined marriage as a heterosexual union, deprived same-sex couples of "equal dignity." He said Tuesday that gay couples "want to show that we too have a dignity that can be fulfilled."
The court also heard an hour of argument on whether states that haven't legalized gay marriages must recognize those performed in other states. As a practical matter, that issue would be important only if the court refuses to require all 50 states to issue same-sex marriage licenses.
'Matter of Time'
If the court required a state to recognize out-of-state marriages, it would be just "a matter of time" before gay marriage is effectively fully recognized in the state, Roberts said.
"We live in a very mobile society and people move all the time," he said. "In other words, one state would basically set the policy for the entire nation."
The high court is hearing cases from Michigan, Kentucky, Ohio and Tennessee -- the states covered by a federal appeals court ruling that rejected marriage rights.
Among the 31 adults pressing suits are April DeBoer and Jayne Rowse, nurses who have adopted four children, two of them with special needs, and are seeking to marry in Michigan. The Ohio case includes Jim Obergefell, who seeks to have his name on the death certificate of his partner of two decades, John Arthur. Obergefell and Arthur married in 2013, taking a medical flight to Maryland and exchanging vows on an airport tarmac just months before Arthur's death.
The argument follows weeks of advocacy and anticipation, evidenced by the 140-plus briefs the court received from outside groups and individuals. The line for at least 50 public seats in the courtroom began forming outside the Supreme Court Friday morning. As the argument hour neared Tuesday morning, marriage advocates danced and waved rainbow flags while opponents held signs decrying homosexuality.
The court is expected to rule by the end of June. The lead case is Obergefell v. Hodges, 14-556.
Before it's here, it's on the Bloomberg Terminal.
LEARN MORE