Only Hours on the Job, Attorney General Loretta Lynch Faces Baltimore Crisis
Del Quentin Wilber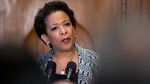 One day into her new job, U.S. Attorney General Loretta Lynch is already confronting the combustible and difficult issues of race and policing that consumed much of her predecessor's final months in office.
Lynch is dispatching the Justice Department's top civil rights official and the director of its community policing program to Baltimore in the wake of riots that ravaged swaths of the city on Monday, just hours after the funeral of Freddie Gray, 25, who died of a spinal cord injury suffered while in police custody.
Earlier, the 55-year-old former U.S. attorney in Brooklyn was briefed on the violence and then was driven six blocks to the White House to deliver her first presidential briefing as attorney general.
Lynch "assured the president that she would continue to monitor events in Baltimore and that the Department of Justice stands ready to provide any assistance that might be helpful there," the White House said.
Later, in a statement issued by her press office, Lynch condemned "senseless acts of violence by some individuals in Baltimore that have resulted in harm to law enforcement officers." Fifteen officers were injured, said Darryl De Sousa of the Baltimore police department.
A Justice Department official, speaking on condition of anonymity, said Lynch has no plans to visit Baltimore. She added that Justice Department officials specializing in community relations are already in the city of 623,000, seeking to reduce tensions.
'A Disservice'
"Those who commit violent actions, ostensibly in protest of the death of Freddie Gray, do a disservice to his family, to his loved ones, and to legitimate peaceful protesters who are working to improve their community for all its residents," said Lynch, the nation's first black female attorney general.
She added that her civil-rights division, like it did in Ferguson, Missouri, and the FBI are investigating what she called "the tragic death of Mr. Gray."
"We will continue our careful and deliberate examination of the facts in the coming days and weeks," she added.
The outrage of Baltimore residents and their largely peaceful protests throughout the day sought to focus attention on an issue that has been burning since the summer: the deaths of black men at the hands of police officers.
Lynch's predecessor, Eric Holder, issued statements seeking to calm violence and riots in the wake of the August shooting death of an 18-year-old by a city police officer in Ferguson, a suburb of St. Louis. He later visited the area, meeting with police officials, civic leaders and residents.
1992 Speech
The new attorney general is no stranger to issues of race and policing, and she once spoke passionately about the problems afflicting minority communities.
In a 1992 speech before a Baptist church congregation, she spoke of "a poverty of spirit afflicting America that is crippling it," adding that "Los Angeles has been burning for a long time, but no one noticed it. New York City is burning right now. Chicago is burning. Atlanta is burning."
She made those remarks in South Carolina after Los Angeles was rocked by riots over the acquittal of policemen in the beating of another black man, Rodney King.
Later, as she climbed the ranks of federal law enforcement, she toned down her rhetoric and spoke about the challenges facing police and the communities they serve.
Lynch's former office in Brooklyn is investigating the choke-hold death of 43-year-old black man in July by a white New York City officer.
Local grand juries declined to press charges against that officer and the one involved in the Ferguson shooting, sparking more public unrest and protests.
The Justice Department issued a report last month that found there was not enough evidence to bring charges against Darren Wilson, the officer involved in the Ferguson shooting. The investigation into the choking death of Eric Garner by the New York City officer in Staten Island is under way.
Before it's here, it's on the Bloomberg Terminal.
LEARN MORE