Obama Says Asia Trade Deal With Abe Is No Threat to China
Angela Greiling Keane and Carter Dougherty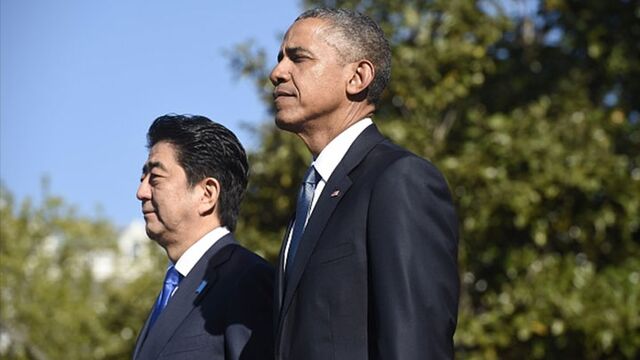 President Barack Obama said a far-reaching trade pact under negotiation between the U.S. and 11 other Pacific nations that excludes China is no threat to the world's second-largest economy.
The deal, called the Trans-Pacific Partnership, would create a free-trade zone linking North American countries and several of China's regional rivals, including Vietnam and Japan. Obama said Tuesday at a White House news conference with Japan's prime minister, Shinzo Abe, that he is confident of sealing the accord in the coming months.
The trade pact "is good for Americans and American workers regardless of what China's doing," Obama said. "This is not simply a defensive agreement."
U.S. and Japanese negotiators had worked intensively on an initial trade agreement between the two countries, intended as a foundation for the broader 12-nation pact, before Abe's visit. At the White House, the two leaders said only that their governments had made progress in those talks.
Any U.S.-Japan deal to open access to each others' markets for products such as pork, rice and automobiles would take effect only if it's incorporated into the Trans-Pacific Partnership.
"I know the politics around trade can be hard in both our countries," Obama said at the Rose Garden news conference. "I know that Prime Minister Abe, like me, is deeply committed to getting this done. And I'm confident we will."
'Significant Progress'
Abe said the U.S. and Japan are committed to the deal and will drive negotiations on the 12-nation pact to a conclusion.
"On the bilateral outstanding issues, we welcome the fact that significant progress was made," he said through a translator. "We will continue to cooperate to lead the TPP talks to its last phase."
The two nations also have new guidelines for defense cooperation that will increase Japan's military capabilities at a time when China is claiming disputed territory in the East China Sea and South China Sea.
A strengthened U.S.-Japan alliance poses no threat to other nations in the region, especially China, Obama said. Cooperation between Japan and the U.S. has helped China's emergence as a global economic power by helping keep borders and sea lanes secure, he said.
China Alliances
China is also seeking to create its own economic alliances. Along with proposed trade deals, China has lined up 57 countries for an Asian Infrastructure Investment Bank. Neither the U.S. nor Japan has yet joined the nascent international lending institution, intended to fund transportation projects and other development.
"This could be a positive thing," Obama said. "But if it's not run well, then it could be a negative thing. And what we don't want to do is just be participating in something and providing cover for an institution that does not end up doing right by its people."
Abe said he's also concerned about the bank's governance, saying it must be "fair" and have board review of individual projects, especially of their impact on the environment.
Long accustomed to bilateral disputes over myriad products including rice and cars, the U.S. and Japan have attempted to transcend their differences in a bid to head off Chinese dominance in the Asia-Pacific region, said Adam Posen, president of the Peterson Institute for International Economics.
Economic Options
"They have a common interest in making sure that the people of east Asia and south Asia have other economic options than playing with China," Posen said.
While insisting the deal isn't aimed at circumscribing China's influence, Obama has pitched the trade pact to reticent members of Congress in strategic terms. His defense secretary, Ashton Carter, said on April 6 that the deal is as important to U.S. influence in the Pacific as an aircraft carrier.
The agreement would stretch beyond traditional trade agreements that focus on tariffs to include other barriers to commerce, such as conflicting regulations. It would also serve as a vehicle for new rules on intellectual property and flows of data across borders, two important issues for cutting-edge industries such as pharmaceuticals and IT services.
The U.S. and Japan have whittled down their differences on a preliminary agreement to two main areas: agriculture and automobiles.
Rice, Autos
U.S. exporters, a constituency key to persuading Congress to approve any deal, want lower Japanese duties on pork, dairy products and rice. Japan is seeking the elimination of a 2.5 percent tariff on its cars exported to the U.S. That matter is hung up over what fraction of those vehicles, in an era of global supply chains and Japanese auto factories in the U.S., must come from countries in the Pacific trade zone.
U.S. Trade Representative Michael Froman returned last week from Tokyo where negotiators were working on differences over cars and agricultural products.
While in Washington, Abe will address the U.S. Congress, where members of Obama's Democratic Party have been skeptical of pending trade deals with the Asia-Pacific region and a separate pact the president is seeking with European nations.
Obama first wants Congress to pass trade promotion authority, also known as fast-track, which he and his allies consider a prerequisite for approving any new free-trade agreement. The authority would restrict Congress to an up-or-down vote on trade deals without amendments.
The Business Roundtable, a Washington-based advocacy group for large corporations, said Tuesday it's made a "six-figure" purchase of advertising to run across the U.S., pressuring Congress to pass fast-track authority.
Obama and Abe met in the Oval Office following a formal White House arrival ceremony with military marches and music on the South Lawn. The Obamas will host a state dinner Tuesday night at the White House for Abe and his wife.
Before it's here, it's on the Bloomberg Terminal.
LEARN MORE