Landmark Ruling Promised as Supreme Court Weighs Gay Marriage
Greg Stohr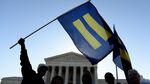 The U.S. Supreme Court began a historic session Tuesday as the justices heard arguments in a case that could legalize same-sex marriage nationwide and give gays constitutional protection they've been seeking for decades.
The case tests a court that two years ago laid the legal groundwork for gay-marriage rights while stopping short of a definitive ruling. The number of states where gays can legally wed has since tripled to 36, and advocates want the high court to extend that to the rest of the country.
A ruling backing gay marriage would stand alongside the 1967 Supreme Court decision that guaranteed interracial couples the right to wed. Marriage advocates cite that case as a precedent, while opponents argue that states should be allowed to keep their traditional definitions of marriage -- at least until voters say otherwise. Polls show record support among Americans for same-sex weddings.
"The states through their political process are the ones who have the authority to define marriage," said John Bursch, a former Michigan solicitor general who will argue in favor of bans on same-sex marriage. "The federal courts aren't in a position to impose one definition on the entire country."
Much of the focus on the divided high court will be on Justice Anthony Kennedy, the Republican appointee who has become the unlikely champion of gay rights. In 2013 Kennedy joined the court's four Democratic appointees in requiring the federal government to recognize legal same-sex marriages. Marriage-rights advocates are counting on him to do the same when the court rules by the end of June.
Four Cases
The high court is hearing cases from Michigan, Kentucky, Ohio and Tennessee -- the states covered by a federal appeals court ruling that rejected marriage rights.
Among the 31 adults pressing suits are April DeBoer and Jayne Rowse, nurses who have adopted four children, two of them with special needs, and are seeking to marry in Michigan. The Ohio case includes Jim Obergefell, who seeks to have his name on the death certificate of his partner of two decades, John Arthur. Obergefell and Arthur married on an airport tarmac in Maryland in 2013 just months before Arthur's death.
The two-and-a-half-hour argument, which started at about 10 a.m. Washington time, follows weeks of advocacy and anticipation, underscored by the 140-plus briefs the court received from outside groups and individuals.
The line for at least 50 public seats in the courtroom began forming outside the Supreme Court Friday morning, as people hired to claim spots for unidentified clients mixed with gay-rights advocates bearing rainbow-colored umbrellas. Just feet away, opponents of same-sex marriage held signs that said "Shame" and "Repent."
The case arrives at the court amid increasing public support for gay marriage. A Washington Post-ABC News poll released last week found that 61 percent of Americans support letting gays marry, with 35 percent opposed.
Justice Kennedy
Marriage advocates were emboldened by Kennedy's strong words in the 2013 case, which involved a federal law that denied benefits to same-sex spouses.
The law put those couples in a "second-tier marriage," he wrote. "The differentiation demeans the couple, whose moral and sexual choices the Constitution protects, and whose relationship the state has sought to dignify."
Advocates are looking to extend that reasoning. They contend the Constitution protects a fundamental right to wed and bars same-sex couples from being treated differently than heterosexual people.
"This is an issue of utmost importance to same-sex couples around the whole nation, people who very simply want to make this legally binding commitment to one other," said Mary Bonauto, a longtime gay-rights advocate who is arguing in favor of marriage rights Tuesday.
States' Role
Opponents point to a separate part of Kennedy's opinion that discussed the states' traditional role in setting the rules for marriage.
Three of the four dissenters in the 2013 case -- Justices Antonin Scalia, Clarence Thomas and Samuel Alito -- have already said they don't read the Constitution as conferring a right to same-sex marriage. The fourth, Chief Justice John Roberts, said he didn't need to decide that issue, giving some gay-rights advocates hope of winning his vote this time around.
The right-to-marry issue is likely to be the central focus of Tuesday's session, with 1 1/2 hours devoted to that question.
The court will also hear an hour of argument on whether states must recognize marriages from other jurisdictions. As a practical matter, that issue would be important only if the court refuses to require all 50 states to issue same-sex marriage licenses.
A decision letting states ban same-sex marriage would have uncertain ramifications. Most of the states that issue gay-marriage licenses do so as a result of court rulings. A Supreme Court decision could nullify many of those decisions, leaving each state to sort out who can wed while raising questions about the rights of already-married couples.
The court is likely to rule in late June, when its nine-month term ends.
The lead case is Obergefell v. Hodges, 14-556.
Before it's here, it's on the Bloomberg Terminal.
LEARN MORE