Hillary Clinton's Evolution on Same-Sex Marriage: Sounds a Lot Like Some Republicans
The Democratic front-runner's old quotes on gay marriage sound a lot like the Republicans' new ones.
by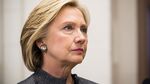 Hillary Clinton on Tuesday  broke out a new rainbow-striped "H" for her Twitter profile picture in honor of today's Supreme Court arguments on a landmark gay marriage case.
The Democratic presidential front-runner, who featured an engaged gay couple in her campaign announcement video, unequivocally favors same-sex marriage. "Hillary Clinton supports marriage equality and hopes the Supreme Court will come down on the side of same-sex couples being guaranteed that constitutional right, Clinton spokeswoman Adrienne Elrod recently said in a statement. 
Clinton's waving of the rainbow flag, however, comes after decades of well documented evolution on the issue. Intriguingly, many of Clinton's past quotes about same-sex marriage correspond with what's currently being said by some of her would-be rivals in the Republican field. 
The Washington Post two years ago put together a comprehensive look at Clinton's changing rhetoric on gay marriage, citing  quotes from various phases in her public life. Looking at that story now, it's hard not to notice the parallels between Clinton's past positions and those currently held by some Republican presidential hopefuls.  Does this mean that one day we'll be able to trace a similar evolution on the Republican side? A look at Clinton's:
2000: 'Between a man and a woman'
In 2000, the Post reports, Clinton said that "marriage has got historic, religious and moral content that goes back to the beginning of time and I think a marriage is as a marriage has always been, between a man and a woman." She added at the time that she supported partnership benefits for same-sex couples. 
Last week, possible presidential contender Bobby Jindal, the Republican governor of Louisiana, penned an opinion piece for the New York Times expressing his belief in that same definition of marriage. "I hold the view that has been the consensus in our country for over two centuries: that marriage is between one man and one woman," Jindal wrote. "Polls indicate that the American consensus is changing — but like many other believers, I will not change my faith-driven view on this matter, even if it becomes a minority opinion."
Also on Bloomberg Politics: The Definitive Hillary Clinton Scouting Report, by Mark Halperin and John Heilemann
He did not talk at the time about benefits for same-sex couples, and hedged a bit recently when he was asked about a bill that was introduced in the Louisiana state legislature that could allow employers to deny benefits to same-sex couples for religious reasons. 
"I am in general though very supportive other defending religious liberty. And I think we can do that without condoning discrimination. I don't think those two values are mutually exclusive," Jindal said.
Retired neurosurgeon and possible presidential contender Ben Carson also recently used a "definition of marriage" argument. Appearing on Fox New's Hannity in February, Carson said, " I believe that marriage is between a man and woman and no one should have the right to change the definition."
2006: 'States making the decision'
In 2006, Clinton met with gay officials and said, "I support states making the decision," according to the Post. At the time, she was still defending the Defense of Marriage Act, framing it as a preventative measure to stop an amendment that would ban gay marriage.
Clinton's stance from nine years ago is shaping up to be a popular one among Republicans now.  In an NPR interview earlier this month that aired right after he announced his presidential bid, Florida Senator Marco Rubio said that state laws will reflect the will of the people. 
"First of all, if the majority of Americans support gay marriage, then you'll see it reflected in changes in state law, which has always regulated marriage," Rubio said. "And so at the end of the day, if a majority of people in any given state in this country petition their legislature to change the definition of marriage to include the marriage of two people of the same sex, that'll be the law of the land. And that is what it is."
After Florida courts in January struck down the state's gay marriage ban, the state's former governor, Jeb Bush,  told the New York Times, "regardless of our disagreements, we have to respect the rule of law." Bush, who is actively fundraising for an as-yet unannounced presidential bid, tried to reach out to both constituencies on the issue.
"I hope that we can show respect for the good people on all sides of the gay and lesbian marriage issue – including couples making lifetime commitments to each other who are seeking greater legal protections and those of us who believe marriage is a sacrament and want to safeguard religious liberty," he said.
The statement was considered a drastic departure from his previous positions, which included a 1994 opinion piece that argued against special protections under the law for gay people, and said that "sodomy" shouldn't be constitutionally protected. The contrast between the two stances, as well as the fact that several of Bush's prominent staffers are gay, has fueled some to the conclusion that Bush is undergoing an evolution of his own, BuzzFeed reported. 
Texas Senator Ted Cruz, who announced his presidential campaign last month, in February re-introduced the State Marriage Defense Act, which allows states to define marriage and prevents the federal government from imposing a definition. If Clinton were still a senator, it's unlikely that she would actively block a Supreme Court decision on gay marriage, but it's worth noting that Cruz's current proposal pretty much matches Clinton's from a decade ago. 
Rand Paul, the Kentucky senator who announced earlier this month, described himself recently on CNN's State of the Union as "a 'leave me alone' kind of guy." Though he said he believes in a "traditional" definition of marriage, he said that "states will end up making the decisions on these kinds of things." 
Late 2007: 'Positive about civil unions'
In August of 2007, Clinton said, "I prefer to think of it as being very positive about civil unions," as opposed to being against same-sex marriage, the Post reported. "It's a personal position ... we have made it clear in our country that we believe in equality. How we get to full equality is the debate we're having, and I am absolutely in favor of civil unions with full equality ... of benefits, rights, and privileges."
Carly Fiorina, who plans to announce her bid for the Republican nomination next week, closely matches Clinton's late 2007 position. Early this month, Fiorina gave a statement addressing the ultimately revised Indiana religious freedom act, signalling her support for civil unions. 
"The debate about gay marriage is really a debate about how the government bestows benefits and whether they should be bestowed equally. I believe they should," Fiorina wrote. "I also believe that people of religious conviction know that marriage is a religious institution with a spiritual foundation because only a man and a woman can create life, which is a gift that comes from God. We must protect their rights as well."
Before it's here, it's on the Bloomberg Terminal.
LEARN MORE