Jeb Bush Says Puerto Rico Agencies Should Have Access to Bankruptcy
Michelle Kaske and Alexander Lopez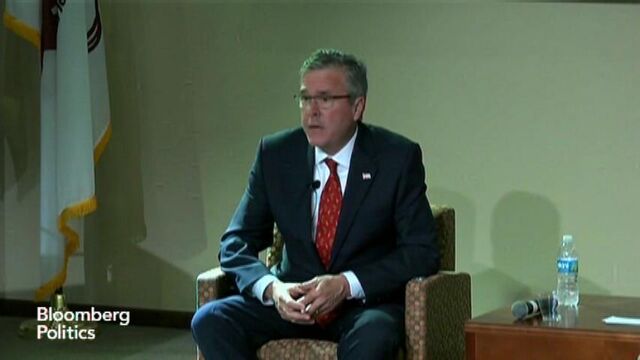 Puerto Rico's public agencies should be able to seek bankruptcy, Jeb Bush, a probable presidential candidate, said Tuesday during a visit to the U.S. territory.
Commonwealth officials are promoting a bill that would enable some agencies to access Chapter 9 under federal bankruptcy law. Junk-rated Puerto Rico, which has struggled to grow since 2006, and its agencies are struggling under $73 billion of debt. The island's main electricity provider is in discussions with creditors and may ask them to take a loss on about $8.6 billion.
"Puerto Rico should be given the same rights as the states," Bush said in Spanish before a crowd of about 100 at the Universidad Metropolitana in San Juan. "In order for Puerto Rico to eventually become a state, it must begin by being treated as a state."
Like U.S. states, Puerto Rico, a self-governing island of 3.5 million, cannot file for bankruptcy. Municipalities on the mainland can seek Chapter 9, though commonwealth localities are unable to do so. Seeking to change that disparity, Pedro Pierluisi, Puerto Rico's nonvoting congressional delegate, filed the legislation in February. It sits in the U.S. House Judiciary Committee.
Bush's visit has mostly symbolic value as he inches closer to formally announcing a Republican presidential campaign. While the island's primary contest is almost inconsequential in the nomination battle, the former governor of Florida is staking out ground as a pro-immigration candidate in the race. Puerto Rico residents are U.S. citizens, but the issue is a pressing one for most Hispanic voters.
Also on Bloomberg Politics: Jeb Bush Sparks Passion in Puerto Rico
Bush said Republicans need to campaign more often in Hispanic communities. He pointed out that his wife, Columba, is Mexican and that his children are bilingual.
In 2012, Republican presidential nominee Mitt Romney won just 27 percent of the Hispanic vote against President Barack Obama. Almost 28.2 million Hispanics will be eligible to vote in the 2016 presidential race, an increase of about 17 percent, according to an analysis by the Center for American Progress, a research group. Hispanic influence may be even greater in battleground states, such as Florida, where more will enter the voting pool than white voters.
Before it's here, it's on the Bloomberg Terminal.
LEARN MORE