Bernie Sanders to Challenge Hillary Clinton
The Vermont senator would run to Hillary Clinton's left, as a Democrat.
by and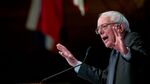 Looks like there will be a Democratic presidential contest after all.  
Vermont Senator Bernie Sanders is preparing to enter the race for the Democratic presidential nomination on Thursday, according to a person familiar with Sanders' plans. Sanders, who was elected in Vermont as an Independent, has decided to run for president as a Democrat, and will discuss that choice when he makes his statement and gives interviews. 
Sanders will file FEC paperwork in the coming days and will hold a rally for his new campaign in May at City Hall in Burlington. Vermont Public Radio first reported the timing of Sanders' announcement. Speaking Tuesday evening at Howard University, Sanders all but confirmed his White House run. 
"I've said I'd make a decision by the end of the month and today's what? The 28th?" Sanders said when asked by a campaign volunteer if he was running. "A formal announcement will be coming soon and we would love to have your company."
Afterwards, Sanders downplayed any rivalry with the Democratic favorite. "If I decide to run, I'm not running against Hillary Clinton," he told reporters. "I'm running for a declining middle class."
But on the same day that Clinton visited three homes of wealthy Manhattan benefactors to raise an estimated $1 million in campaign funds, Sanders gave his Howard audience a sneak preview of a campaign platform that is squarely aimed at what the Vermont socialist describes as "the billionaire class." 
Also on Bloomberg Politics: The Definitive Bernie Sanders Scouting Report, by Mark Halperin and John Heilemann
Sanders called the current level of income inequality "grotesque" and said he would also make efforts to limit campaign donations a centerpiece of his campaign. "I worry very much about billionaire control of our politics," he said. The senator favors public financing of campaigns "so you don't have to spend your time hustling money to run and can actually talk to your constituents." 
To help improve the lot of the under- and unemployed, Sanders favors a jobs program that would involve massive public investments in the nation's "crumbling infrastructure" and a near doubling of the federal minimum wage, from $7.25 an hour to $15 an hour. 
In stark contrast to Clinton, who has yet to stake out a position on the Trans Pacific Partnership, a trade deal that President Barack Obama touted at a press conference Tuesday, Sanders spoke out forcefully against such agreements, saying they have cost American jobs. "We've gone from a GM economy to a Wal-Mart economy," Sanders said.
The speech got an enthusiastic reception from a crowd of about 60 students and faculty members. Afterwards, Lorenzo Morris, a professor of political science at Howard, said he's pleased about the prospect of a Sanders run. "Do I expect him to win the Democratic nomination? Of course not," Morris said. But he said he hopes Sanders and Senator Elizabeth Warren of Massachusetts can revive the Democratic left in the same way Bill Clinton did the party's centrist wing in the 1990s. 
Sanders' surrogates sense a constituency for his message. "I think we're coming to the critical moment of truth here. He's now spent enough time traveling around the country talking to people and feels there is genuinely a large audience of people who are with him," Democratic strategist Tad Devine, an adviser to Sanders, told MSNBC last week, adding that Sanders' was "within days" from making his decision public.  
Like other prospective and declared presidential candidates, Sanders spent the past few months visiting states like Iowa and New Hampshire, that host the first caucuses and party primaries in the nation. With Warren sticking with her decision to sit out the 2016 presidential election, Sanders is well positioned to challenge Clinton from the left. 
"The American people want Secretary Clinton, all candidates, to talk about why the middle class continues to decline, why the rich get richer, why Wall Street continues to have unbelievable power over the American economy," Sanders said in an April 15 interview with Bloomberg. "The American people not only want a serious debate on this campaign, they want candidates who will deal with the most important issue, and that is are we prepared to take on the billionaire class which has so much power over our economic and political life."
On Jan. 27, Sanders talked to With All Due Respect about his motivation for a possible White House run.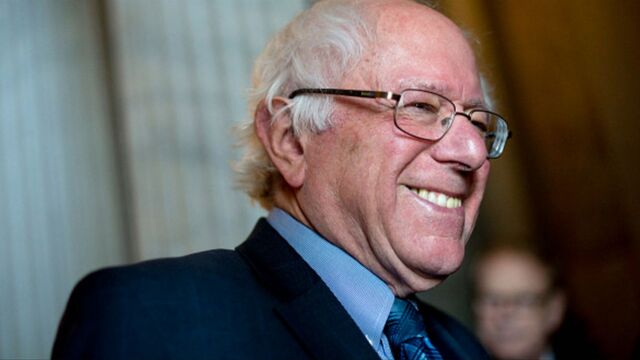 —Kathy Kiely contributed to this report.
Before it's here, it's on the Bloomberg Terminal.
LEARN MORE