Baltimore's Fragile Daytime Truce Holds for Now
A post-riot calm largely took hold the city on Tuesday.
by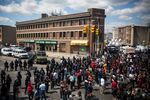 The day that played out before this city's 10 p.m. curfew was a study in how easy it is for one or two people to turn peace into its opposite. While break-ins and looting occurred throughout Baltimore, a flash point of Monday's riots were occupied by police, protesters, and volunteers. The intersection of North Ave and Pennsylvania Ave, where a CVS and several police cars had been burned, saw traffic redirected by blockades of officers in riot gear. They limited the access to an intersection that had become, by Monday afternoon, a kind of utopian block party.  A drum circle formed where the street had been full of debris. Several men moved around the crowd leading rounds of "Amazing Grace" and Bill Withers's "Lean on Me" and James Brown's "Unity."
Across the intersection, swarms of people were cleaning up the debris left by the burning of the CVS. Ricky Carter, a 57-year old man who'd been on a job past the key scenes from the riot, had seen the clean-up and stopped to help out.
"I ran across some younger people picking up trash and this is where we ended up—in the assembly line," he said, passing a hunk of twisted metal to the person in front of him, en route to a dumpster. "Hope, that's the message. If this is what it took to get us together, this is what it took. We need to keep moving forward from here. That's my prayer."

A few steps away, 25-year Nikko Caldwell, a gang member who had been charged with possession of marijuana just a month earlier, was telling anyone who would listen that the Bloods, Crips, and Black Guerrilla Family had agreed to a ceasefire and were helping prevent businesses from being looted. There was a motive here—the gangs had been giving interviews in attempts to debunk reports, from police, that they had actually teamed up to shoot the authorities. "The police in this neighborhoods have been harming us for years," insisted Caldwell. 
When Caldwell finished talking, a member of the Nation of Islam strolled over to insist that all the "truce" talk was spin. Minutes later, a bigger problem arose. Among the hundreds of people assembling peacefully, a few angry agitators kept moving toward the line of police and trying to start a fight. After one was pulled away, successfully, one office cautioned an organizer and told her to keep the crowd under control.
That proved impossible, as one more agitator succeeded in starting a brawl. The police snapped into acting, grabbing the man and deploying pepper spray that wafted through the wind. This was what happened next:
The melee lasted less than 45 seconds, but quickly spread to the perimeter of the crowd. It only stopped when members of the 300 Men March, protesters clad in black T-shirts, flooded the zone and raised their arms. The calm returned, but it was hard forget the ease of breaking it.
Before it's here, it's on the Bloomberg Terminal.
LEARN MORE