Why the Kochs Won't Ask About Criminal History on Job Applications Anymore
by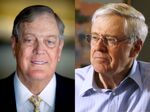 Last month, at a bipartisan conference on criminal justice reform, Georgia Governor Nathan Deal faced a crowded ballroom and beamed with pride. "In Georgia," he said, "we have effectively banned the box."
Most of his audience recognized the expression right away. Others learned more about it as the day went on. "The box," in context, is the section of a job application that asks whether the applicant has ever been convicted of a crime. "Banning" it is self-explanatory. A simple reform that might prevent peaceful ex-cons from losing (or fearing even to try for) jobs has been picking up momentum.
Yet even at the conference, whenever Koch Industries counsel Mark Holden talked about "the box," he was shocking people. According to Holden, who'd worked at Koch for more than 20 years, the company had never really considered criminal pasts when making hires. It, too, had effectively banned the box, for more than 60,000 employees in the United States.
"People heard we'd done this, and they said–'Hey, you should make it public,'" Holden told Bloomberg. "It wasn't a memo, company wide, or anything like that. Over the last month, we'd just been bringing all HR in all the divisions on board with the policy."
On Monday, USA Today published an interview with Holden in which he clarified and codified the policy. It made news, and Holden insists that this came as a surprise. "I was doing that interview with USA Today on a bunch of different issues, and the application issue came up," he said. "I said 'Yeah, we don't do that anymore.' People seemed interested. But we've found over time and time we rely less and less on the box. We look at education, we look at the role, and we screen them with an interview. People typically front the issue with us, if they have a criminal issue."
Holden, unsurprisingly, deferred on a question about what the Kochs might want to hear about this from presidential candidates. Yet a few of the candidates already have records on the box. For most of his career in elective office, Kentucky Senator Rand Paul has told a story about a friend who got busted in a one-time drug offense and could neither vote nor find real work.  "When he looks for work he must check the box, the box that basically says, 'I'm a convicted felon and I guess I'll always be one,'" Paul said in 2013.
Former Maryland Governor Martin O'Malley has gone a step further. In 2013, he signed legislation passed by a Democratic House and Senate that removed criminal history questions from job applications. The issue has yet to make it to the front burner of 2016, though, and a question to Hillary Clinton's campaign about her own stance on "the box" was not answered Monday.
Before it's here, it's on the Bloomberg Terminal.
LEARN MORE